LG Spectrum's User Guide ready for your perusal
8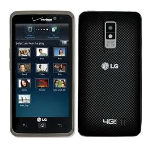 Verizon's successor to the
LG Revolution
is the
LG Spectrum
which is
expected to be launched on January 19th
. LG has really built a beast with a 4.5 inch True HD IPS display with a pixel density of 329ppi which beats out the 326ppi on the
Apple iPhone 4S
. And with that dual-core 1.5GHz processor under the hood, you can expect the device to be responsive and fast.
If you're the type that loves to go through User Guides, we have a treat for you with the booklet for the LG Spectrum. In fact, you'll be reading the User Guide before the handset gets to show itself off at CES next week. Pricing is about the only thing still up in the air although Verizon seems to
love that $299.99 contract price
for dual-core LTE handsets. No matter how hard you wish for it though, Android 4.0 will not be installed on the LG Spectrum at launch. Instead it will be Android 2.3 powering the phone until the expected update to Ice Cream Sandwich.
To get to the User Guide for the LG Spectrum, click on this
link
.
source:
DroidLife