LG Optimus Vu Hands-on Review
11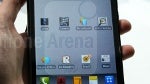 Well, it looks like the time has finally come for us to meet with the
LG Optimus Vu
, and we're definitely excited about this. What's so interesting about this Optimus Vu, you may ask? Answering this question is quite easy – this is a giant phone, it's simple as that. But, not only is the screen of the Vu giant, it also has this very unconventional aspect ratio of 4:3, making the Optimus Vu look like an iPad mini or something...
Keep in mind that this handset is almost impossible to operate with one hand only, because of its considerable width. However, it's still pretty thin at just 8.5 mm. The actual size of the display is 5 inches, and it has a resolution of 1024x768 – the same as the one of the iPad. As you can imagine, this means that the Optimus Vu offers a relatively high pixel density. By the looks of it the Vu will be a very cool device for stuff like web browsing and e-book reading. The back side is simply plastic, with a nice texture to it, just to shake things up a bit.
Another signature feature of the Vu is its special pen (similarly to the Galaxy Note), which can be used to take notes and draw on the device's screen. On the hardware front, the Vu is well-equipped with a dual-core 1.5 GHz Snapdragon processor, coupled with an Adreno 220 GPU.
Overall, the Vu does seem like an interesting device. However, it's too early to say how it will fare as an everyday smartphone, and how comfortable it will be. Unfortunately, this model is only announced for the Korean market right now, and LG doesn't have plans to bring it to the EU or US. We do hope that they will change their opinion though.