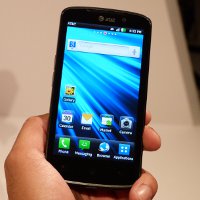 So the
LG Nitro HD
has landed, bringing LG up to par with some of its competitive rivals – namely Samsung and HTC. Actually, it's the third 4G LTE smartphone for AT&T's camp, but in its quest to differentiate itself from the existing crop, it's packing a
720p display
to meet the competition head on.
Honestly, the LG Nitro HD looks exactly like the LG Optimus LTE, which isn't a bad thing per se, but doesn't jump out at us as something killer looking – like what we find with the Motorola DROID RAZR's solid design. Rather, its
all-plastic body
makes it impressively
light weight
, and possibly feels lighter than the Samsung Galaxy S II Skyrocket in the hand. In the rear, it features a patterned design, but seeing that it has a slick plastic feel to it, the entire thing feels rather slippery.
Staring straight at us, its
4.5" 720p (720 x 1280) LCD display
looks mightily sharp, and even better, its wide viewing angles allow it to maintain its clarity at all angles. Looking at it from a good distance away, it's almost hard to distinguish how superior it is in detail with its
329 ppi pixel density
– so yeah, it's sharp looking and definitely stands out. In terms of color reproduction, we dig the punchy colors it's able to dish up, which ultimately goes a long way in highlighting its visual flare.
Beyond its snazzy looking display, it packs some wicked hardware under the hood to complement its larger than life status – like a 1.5GHz dual-core processor, 1GB of RAM,
1.3
-megapixel front-facing camera, 8-megapixel auto-focus camera with LED flash, Bluetooth, and Wi-Fi. And of course, it's packing a 4G LTE radio inside of it to offer users lightning fast data speeds. Meanwhile, it's running the standard LG Optimus skin on top of Android
2.3
Gingerbread that we're all so familiar with by now.
At
$249.99 on-contract
, it puts itself right against the Samsung Galaxy S II Skyrocket, but of course, there are certain aspects about it that could appeal to some people – like its 720p display. In the meantime, we'll be checking it out to see how it handles.