LG Nexus 4 press render leaks out: is it real?
54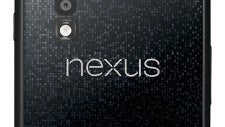 After LG confirmed Google will be bringing its
Nexus 4
to its event on October 29th to show to everyone, and after numerous leaks showing us every inch of the device, the only thing that seemed to be missing is the official press renders.
And now they are out. Leaked on Twitter, you can see what is very likely to resemble the final LG Nexus 4 in its full glory.
On the back, the matrix-like Crystal Reflection pattern proudly holds the Nexus name in huge letters. The front of the device remains buttonless like the Galaxy Nexus, and if you could only see only its anterior side you could easily mistake it for Samsung's last year's Nexus. They are that similar.
On the sides we have the volume rocker, lock key and a micro SIM card holder.
Not much changed, right? If we had to dig a bit deeper for the tiniest of changes, we'd have to point out that the battery indicator is now also showing percentage points for how much charge you have left. The clock is also in the center of the notification bar. Nice little touches, if true.
But there are also two supposedly weather indicators showing 92 (probably degrees) and that looks very, very suspicious. The new positions of the clock and the battery indicator might be nice, but we're not sure that they are real. So is this the real image? We'd say
not likely
.
Feel free to look at the image below from every angle and don't hesitate to hit us with your thoughts about it in the comments below.
source:
@evleaks