LG G5 vs Samsung Galaxy S6: first look
14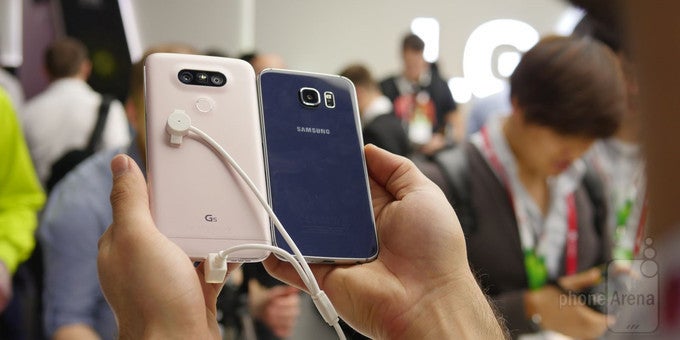 Let's say that you're torn between getting an LG G5 or a Galaxy S6. Or perhaps your Galaxy S6 is starting to feel a little old by now, and the adventurer inside you is ready to jump onto something different, such the LG G5. Either way, choosing to go with the latest LG flagship seems like a no-brainer. It is the newer model, after all, packed with a faster processor, a bigger display, and a fancy wide-angle camera. But ultimately, could the Galaxy S6 be worth sticking with?
Design
Processors get faster, cameras get better, memory grows in capacity with each new smartphone generation. A phone that looks great today, however, would still be a looker a decade from now. Sure enough, the Galaxy S6 is still a looker with its metal frame, glass back and front plates, and slim design. Besides, it feels more comfortable in the hand thanks to its smaller footprint.
The LG G5, with its full metal body, is not a bad-looking phone by any means, but it can't wow us either. It is designed to be practical, retaining the removable battery, expandable storage and all, but strictly from a visual perspective, it is just okay. Though you should be pretty happy with it if you enjoy the feel of anodized metal against your fingertips.
Speaking of design, the LG G5 is built around LG's new Modular Design principle. In plain words, various modules can be attached to it, expanding its functionality – a high-quality sound module or a camera grip with extended battery, for example. It is an innovative and unique concept, we'll give it that, but its success will greatly depend on how useful and well-made the modules are.
At the bottom of the LG G5 resides a Type-C USB connector, which is reversible for more convenience. In contrast, the Galaxy S6 sticks to the more popular, but not quite as convenient Micro USB connector.
Display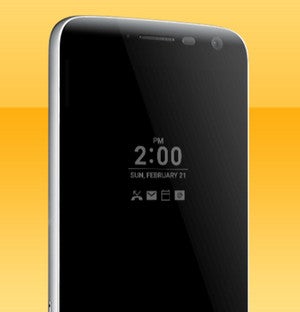 One thing about the LG G5's screen is noticeable right away – a section of it stays lit even when the phone is in stand-by. That's the new Always On feature by LG, which enables basic info, such as the time and pending notifications, to be viewed without lighting up the whole screen. Yeah yeah, that does draw
some
power, but considering that you won't have to light up the whole screen every time you need to look at the time, Always On might actually improve battery life. And if you're not keen on the new feature, you can simply turn it off. Alas, the Galaxy S6 does not have any Always On display abilities, at least not out of the box.
As far as specs go, the LG G5 stands taller with its slightly larger display – 5.3 inches vs 5.1 inches for the Galaxy S6 – but the identical, 1440x2560-pixel resolution they're packing means that images on both screens look equally detailed, more or less. Do keep in mind that since the Galaxy S6 packs an AMOLED display, colors on it could appear slightly more saturated than they should be, but tweaks in the Settings menu let you set a different color profile.
Performance and memory
At its launch, the Galaxy S6 was one of the best-performing phones in town thanks to its powerful, but efficient SoC paired with plenty of RAM and a speedy on-board storage chip. But the Snapdragon 820 powering the LG G5 is faster, at least when it comes to raw power. It is estimated to deliver about 30% better CPU and 60% better GPU performance compared to Samsung's former flagship, which sounds like a considerable gap to us. In addition to that, the LG G5 packs 4GB of RAM, so it could be the better multitasker. And for those who need additional storage, LG's top smartphone supports microSD cards.
That's all theory, of course – specs and figures written on paper. In real life, the Galaxy S6 feels about as snappy than the LG G5 when it comes to every-day tasks. But still, the LG G5 is definitely the more future-proof of the two phones, and should prove faster with more demanding tasks and games.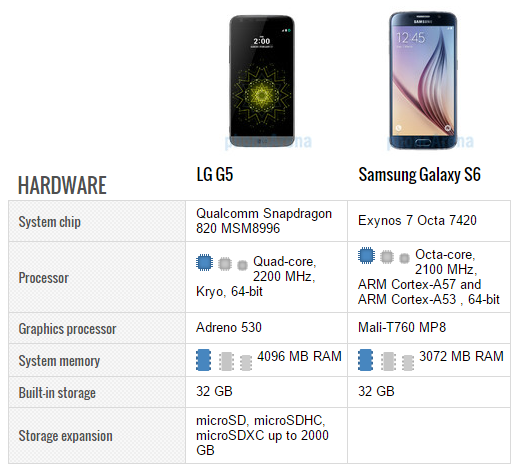 Camera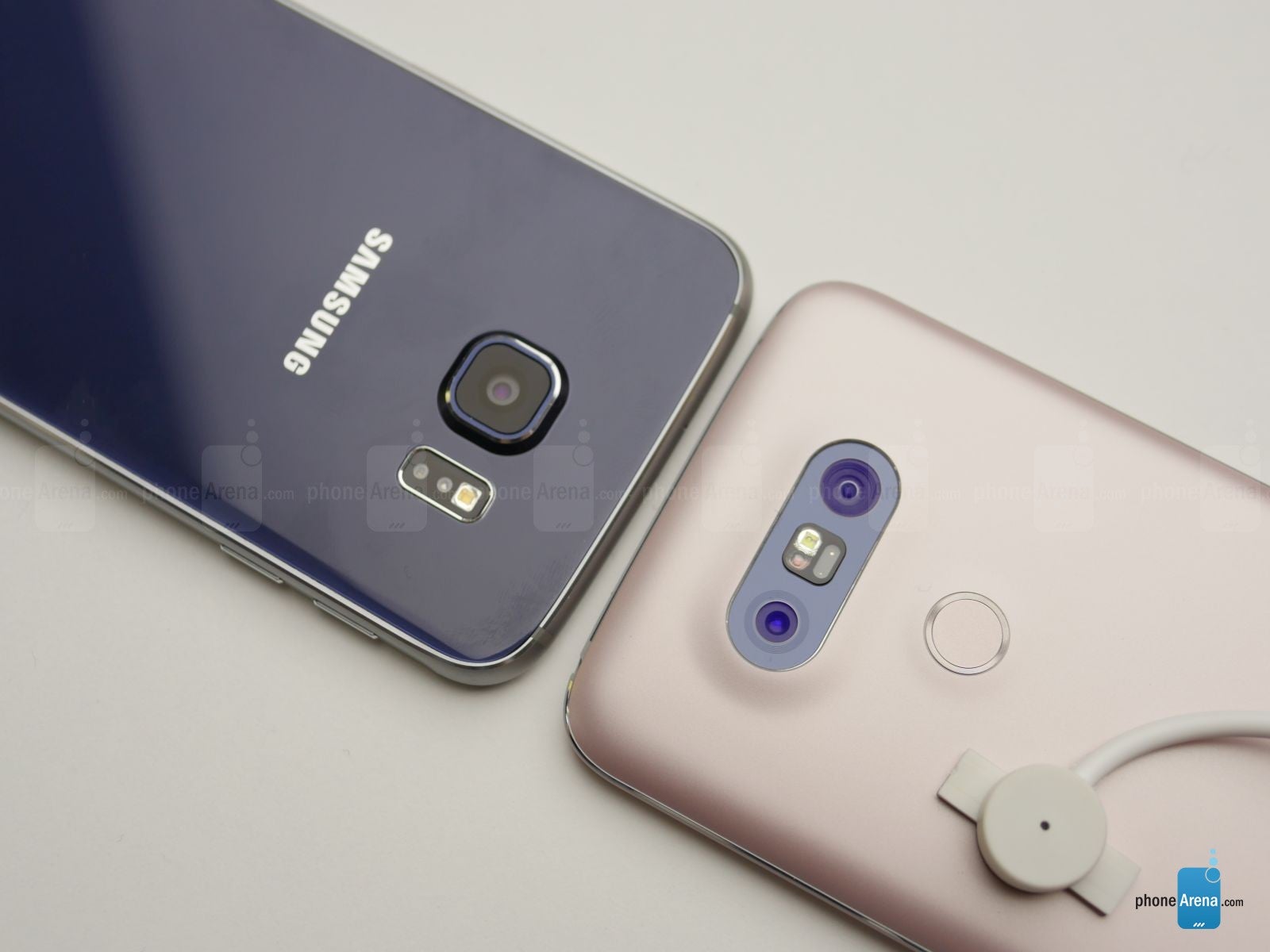 The dual camera that the LG G5 is sporting is a peculiar setup, and one you wouldn't get on any other phone right now. At least not in this form. There's a secondary 8MP shooter with a 135-degree, wide-angle lens, allowing you to capture a frame much wider than usual. It kind of feels like shooting with a GoPro – some image warping is noticeable, but the angle of view is impressive. But due to the lower-quality of the produced image, our guess is that people would mostly use the G5's primary camera. And that is a 16MP cam with F1.8 aperture, laser auto-focus, and full manual software controls – pretty much what the LG G4 from last year had.
While we haven't had much time to test the G5's camera against that of the Galaxy S6, we can't draw any solid conclusions as to which is better. But we have a feeling that the two will be in the same ballpark as far as image quality goes. That's because the Galaxy S6 and LG G4 performed equally well, more or less, and the G5's main snapper doesn't seem to be any different, at least from a technical standpoint.
Expectations
The LG G5 is a peculiar smartphone with its modular design principle and dual camera approach. It is built to be practical with its Always On display, removable battery, and expandable storage support. Not to be forgotten is the faster processor ticking inside it, alongside an extra gig of RAM and a slightly bigger battery. But if that's somehow not enough to get you excited, perhaps you'd be better off sticking to your Galaxy S6. And if you're not an S6 owner, but you're torn between it and the LG G5, do keep in mind that the Galaxy S6 could be considerably cheaper, being a year old already.