LG G5 vs Samsung Galaxy Note 5: first look
19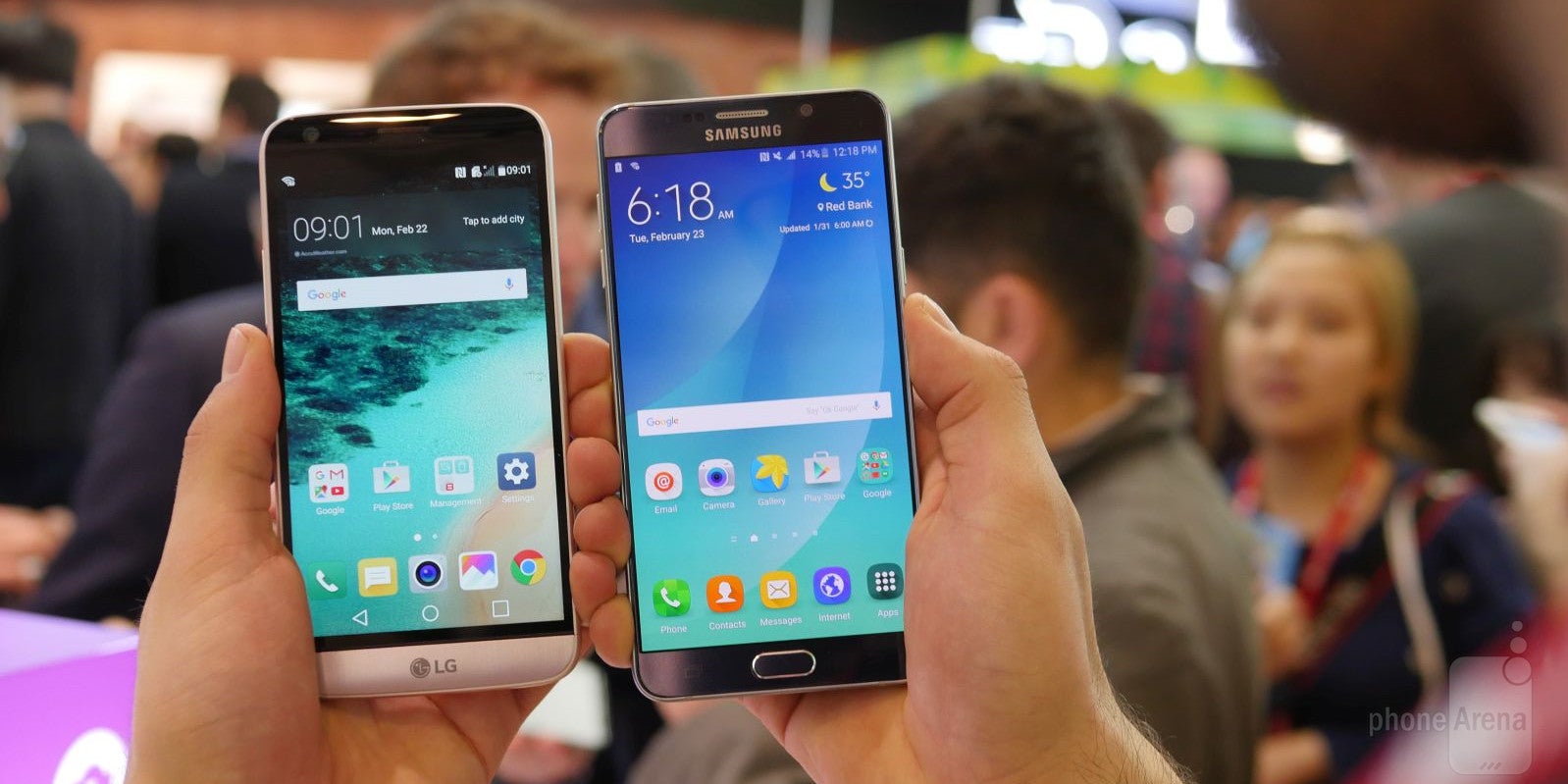 Samsung and LG's rivalry feels more intense than ever, because the playing field between the two arch-rivals hasn't felt this even in a long time. Samsung refined their best, while LG brought their best. The LG G5 is everything your typical smartphone isn't, with its modular design that lets you remove the bottom portion to access the battery or exchange it for one of its specialized accessories.
With its metal design and novel mechanism, the smartphone will stand out against the Samsung Galaxy Note 5, which is still an imposing large screen smartphone that steals plenty of looks and attention. It also has an unique selling point of its own – the S-Pen, whose productivity-enhancing functionality is unrivaled among the competition. Here's an early look at how the two interesting, innovative, cutting-edge smartphones compare in several key departments.
Design
Both are beautiful modern smartphones with metal bodies and hidden surprises, but the Note 5 is a handful with its larger screen.
Fashioned out of metal and pleasantly (though not excessively) slim, the LG G5 is elegant and understated, rather than strikingly beautiful. It's a well thought out and executed smartphone, with its smaller, 5.3-inch display tangibly helping with the handling. We must acknowledge the Galaxy Note 5 as the more flashy of the two, with its curved glass-covered back that playfully reflects the light, but is also a fingerprint magnet. While one-handed usage is an option for the LG G5, we can't say the same for the Note 5, where two-handed usage is practically a necessity. Otherwise, both smartphones feel pleasantly substantial in the hand, neither too light, nor too heavy given their premium build and technological complexity.
Most notably, the LG G5 boasts a novel "modular" design that lets users swap an empty battery for a fresh one, install a microSD card, and expand the smartphone's functionality with attachable modules that LG calls "Friends". At the moment, these include a camera grip attachment and a Hi-Fi audio DAC, with more being worked on and planned for release in the coming months. The Note 5 is more than meets the eye, too, for it houses an S-Pen stylus in a dedicated silo inside the phablet's body. It's taken out via an original spring mechanism, and once inside your fingers, the S-Pen helps you waltz information across different applications easily, turning the Note 5 into a multi-tasking powerhouse with features such as writing with the screen off, Air Command, Write on PDF, and Scroll capture, among other things.
While the LG G5 is impressive for the way its curved glass cover gives the front panel an elegant flowing appearance, the Note 5's design centerpiece has to be its sturdy, sculpted metal frame that's growing into a signature touch for Samsung's premium handsets. The LG G5 is sold in Silver, Gray, Gold, and Pink, the Note 5 is available in Silver, Gold, Black, White, Silver Titanium and Pink Gold. Their peculiarities aside, both handsets have fingerprint sensors for biometric security and convenient rapid charging, but the Note 5 also has a heart rate sensor and features wireless charging.
Display
Different smartphones, different sizes, different technology, vivid colors and intense brightness.
Different smartphones, different sizes, different technology. At 5.3 inches by diagonal, the LG G5's display is considerably smaller than the Galaxy Note 5's 5.7-inch screen. LG uses a Quantum LCD panel, while Samsung opts for its own, best-in-class Super AMOLED matrix. These differences aside, both displays render images in extra-sharp Quad HD resolution (1440 x 2560), and are capable of outputting vivid, artificially sweetened colors. However, the LG G5 won't let you deviate from its over-saturated colors, while the Note 5 lets you choose between different screen modes that cover the ground between neutral and larger than life.
Additionally, LG took the concept of the LG V10's auxilary 'Always On' screen, and made it happen on the LG G5 by tinkering with the LCD's backlight. When it's in your hands, the G5 always shows the time, date, notifications, and signature so you don't have to power it on and off hundreds of times a day. The Galaxy Note 5 doesn't have this feature, and its display has a maximum brightness output of 470 nits, while the LG G5 dials it up to a searing 850 nits, making it easier to view the display under strong light.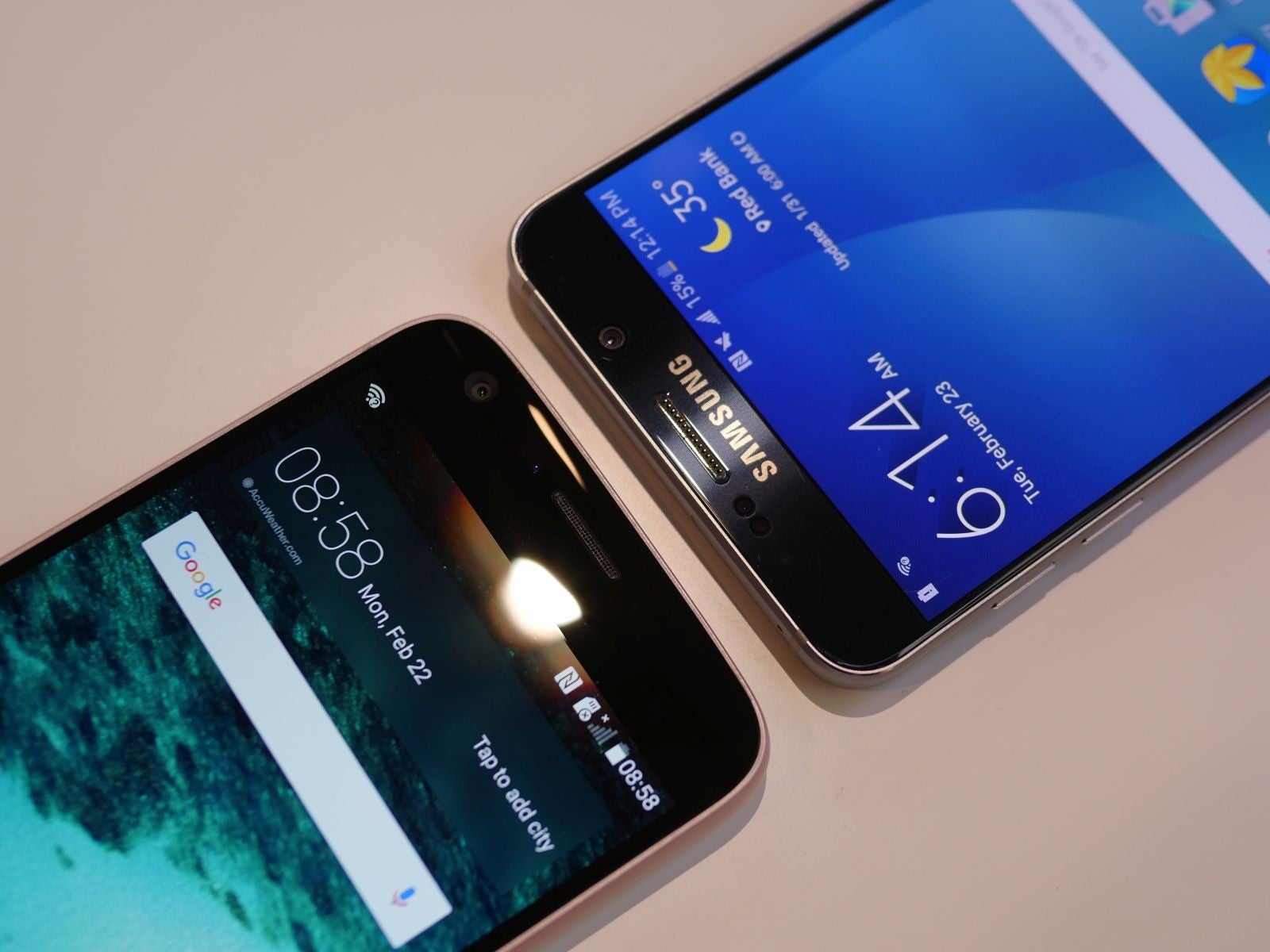 Interface and Functionality
Both handsets run the latest Android, but the LG G5 is about a streamlined experience while the Galaxy Note 5 offers a wealth of features.
The LG G5 runs Android 6.0.1 Marshmallow and utilizes the same colorful visuals as LG's older skins (. At a glance, the homescreen doesn't seem changed from before with its familiar square-shaped icons, but it doesn't take long to notice that LG has turned off the app drawer (by default) in favor of placing everything on the homescreen. Some of you might like it this way, but to us, it makes for a slightly jumbled organization – like how widgets mesh with the grid layout of the apps icons. Moreover, LG cut side-by-side apps multi-tasking, which we're a bit disappointed with. At least the QSlide mini-apps are still available to boost the LG G5's productivity value.
At this point in its evolution, Samsung's TouchWiz interface feels coherent enough on the Galaxy Note 5. Like the G5, the Note 5 runs the latest version of Android. With its larger display and the extended functionality allowed by the S-Pen, which is very convenient for juggling information between apps, the Galaxy Note 5 is better suited to multitasking, and while its interface isn't as streamlined and straightforward as the G5's, it does a good job at presenting a huge wealth of functionality without being too complicated and confusing.
Clearly, those who long for a streamlined, simplified experience that follows Apple's blueprint will feel more at home with the LG G5. But if you love exploring the many nooks and crannies of an operating system, or long for a solid package of multitasking and productivity features, the Note 5 is arguably a finer choice.
Hardware
Both smartphones are exceedingly powerful, but the LG G5 benefits from a newer chip and expandable storage.
Launching six months after the Note 5, the LG G5 benefits from the latest and greatest in mobile processing technology. LG's flagship is powered by the Qualcomm Snapdragon 820 chip, which boasts four custom 64-bit CPU cores, an in-house made Adreno 530 GPU, and 4GB of LPDDR4 RAM. Not surprisingly, the G5 was exceptionally fast in our quick look-through, and already busted the popular AnTuTu benchmark's record score. Apps open instantly, navigating the menus feels tight, and there's no major sluggishness to complain of.
Six months down the road, we can tell you the Galaxy Note 5 still holds its own against the new kids on the block. The phablet is powered by the same Exynos 7 octa-core processor that won Qualcomm as a client for Samsung's 14nm CPU manufacturing business. The Exynos 7 is more than qualified for the job at hand, and is too paired with 4GB of LPDD4 RAM and a fast graphics unit. Likewise, the Note5 is fast and responsive, which is quite essential for the kind of multi-tasking and power user functionality it's designed to handle.
Although both phablets come with at least 32GB of very fast UFS flash storage, the LG G5 has the option of expanding it via microSD card, while the Note 5 has no expansion slot. That's one aspect that we applaud LG for doing, seeing that many rival phones have opted to switch to a totally internal format with storage.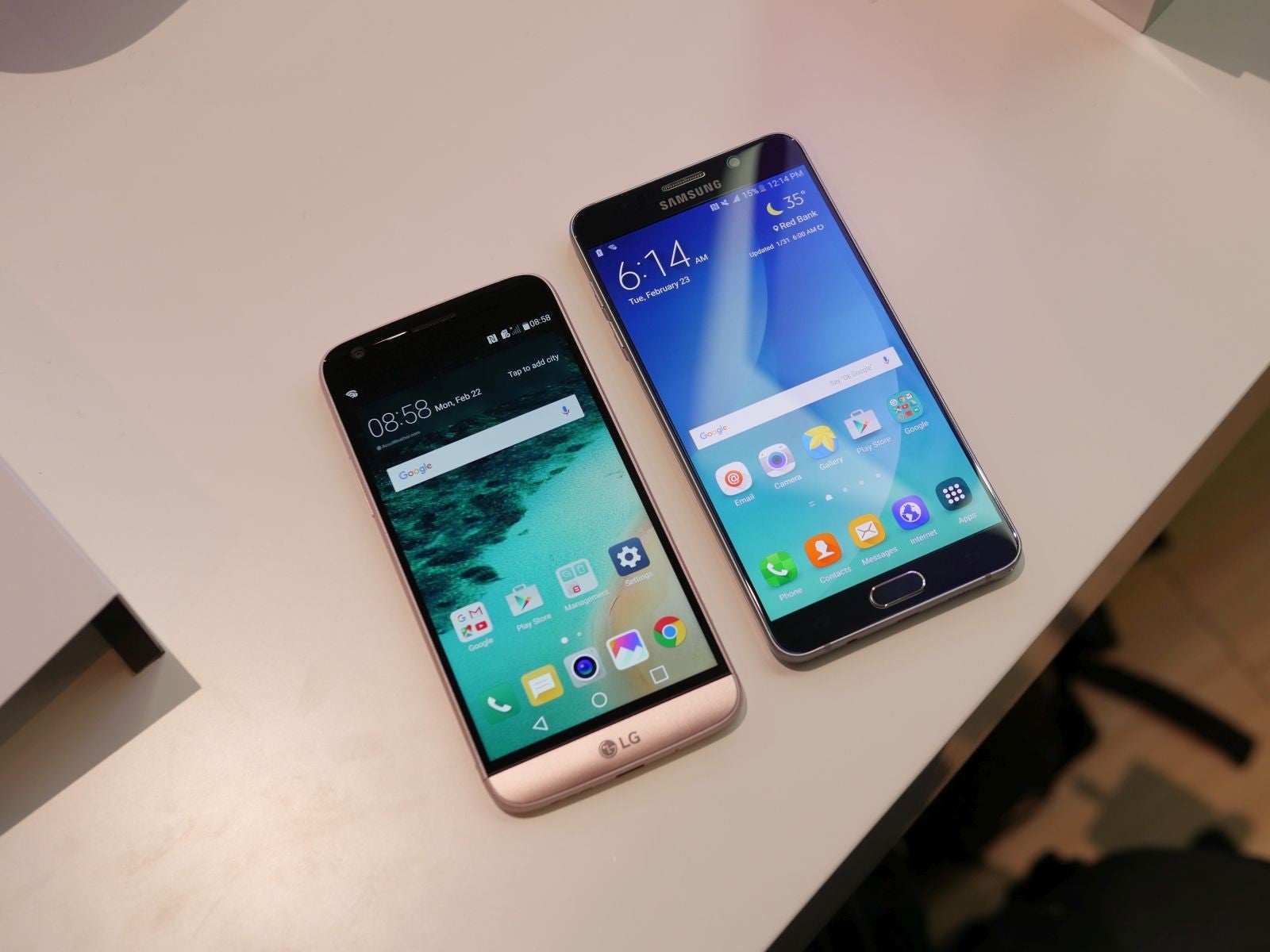 Camera
The LG G5's dual camera setup allows for wide panoramic-like shots, while the Note 5 is still one of the most capable cameraphones around.
The LG G5 has become the first brand name smartphone since the HTC One M8 to feature a dual camera setup. The main rear cameras of the phone are two 16MP and 8MP units (with an LED flash), set up for taking extra wide, almost panoramic-like shots (should you choose to take advantage of that, of course). This definitely serves its purpose, but we can't tell for sure whether it does anything meaningful for the actual photo quality. As for the front-facing camera here, it's a single 8MP one that seems qualified for selfie shots. Still, we're inclined to believe that the LG G5 has what it takes to excel on the still-imaging front like its predecessors have done before.
It will have to, because the Note 5 is one of the finest camera phones on the market. It is equipped with a 16-megapixel rear camera with an LED flash, and an f/1.9 aperture lens. Meanwhile, the front-facing camera is capable enough with its 5-megapixel sensor. Like the LG G5, the Note 5 camera interface has a manual control mode, which lets one fine-tune the scene before it's captured. In knowing hands, there's no reason for any of the two handsets not to excel in challenging scenarios, such as low light photography. Moreover, both smartphones can shoot video in up to 4K resolution, although most of you will probably settle for 1080p or less because of 4K videos' large size.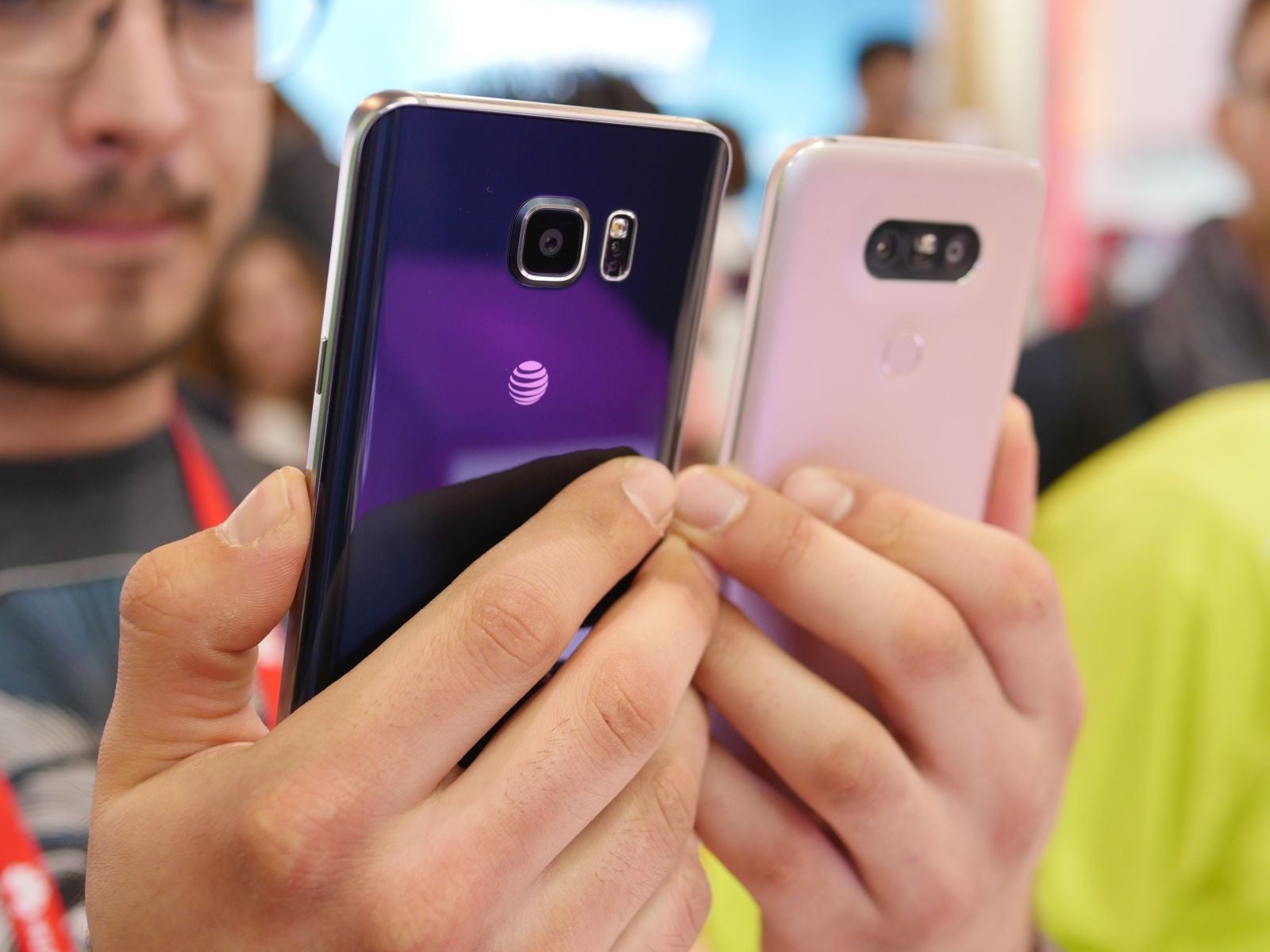 Expectations
By far the most radically designed smartphone we've seen at MWC 2016 thus far, the LG G5 is a big step forward for LG with the premium feel it commands over its predecessors. Long relying on sparse plastic builds, it's refreshing to have LG go all-premium while introducing an original design that breaks the norm and shows that smartphone innovation is alive and well.
However, users that seek enhanced productivity should still opt for the Galaxy Note 5 with its S-Pen and bigger display, rather than the hot new gadget from LG. The Note 5 is just six months old, and it's still the best major brand phablet out there. However, if you want expandable storage and care for wide angle photos, your sights should turn towards the LG G5. Otherwise, both devices are beautiful, excessively powerful showcases of some of the best mobile technology that's made it to the market, and you can't really go wrong with either.
In light, there's still the matter of pricing. Although LG hasn't confirmed the numbers, nor the availability, we speculate the G5 will be sold at around $650 to $700, with availability coming soon. At $800 for a 32GB base model, the Galaxy Note 5 is an expensive smartphone, but we feel its beautiful looks, high quality build and wealth of functionality are worth the potential $100 difference if you can really take advantage of them.