LG G4 subjected to slow-motion torture
26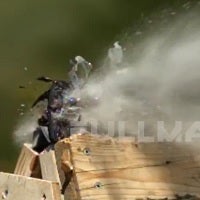 All tech comes to an end at some point, and at the hands of Richard Ryan at FullMag, he has mastered the art of showing just how spectacular that end can be.
The new
LG G4
turned out to be one of his favorite new smartphones, particularly in the camera department. However, like all his gadgets, eventually they will find themselves under the slo-mo camera, and receiving fire from any number of
exotic weapons
.
This time, Ryan is joined by none other than Mat Best. If you are a modern-era veteran of the US armed forces, then chances are you know who Mat is. The former Ranger has launched a highly successful clothing company called Article 15 Clothing, and has teamed with fellow veteran-owned business, Ranger Up, to produce a movie titled, Range 15. That project has blown through its fund raising goal, will feature Medal of Honor recipients Dakota Meyer and Leroy Petry, former Navy SEAL Marcus Luttrell, and will be directed by Ross Patterson.
Back to the open spaces of Utah, Ryan and Best brace the LG G4 to face…a FAMAS? The
Fusil d'Assaut de la Manufacture d'Armes de Saint-Étienne
, is the primary service rifle of the French military. The rifle is a rare find in the US nowadays since it never sold all that well and dealers stopped importing it years ago.
Ryan and Best poke some fun at the rifle while taking aim at the ill-fated LG G4. Meanwhile, it is perfectly okay to also poke fun at Ryan's hat.