LG G3 gets compared to the G2 at Verizon, the result is inadvertently hilarious
10
Verizon now has a new webpage that compares the upcoming
LG G3
to the old
G2
, which has been available since last year. Obviously, this can be very informative to the carrier's customers who may wonder
if they should upgrade
to the newer G3. However, someone at Verizon screwed up, so we're seeing a photo of a QWERTY feature phone where the G3 should be visible. The feature phone we're talking about is the
LG Cosmos 3
- which, save for the fact that it's made by the same company, has absolutely nothing to do with the high-end G3.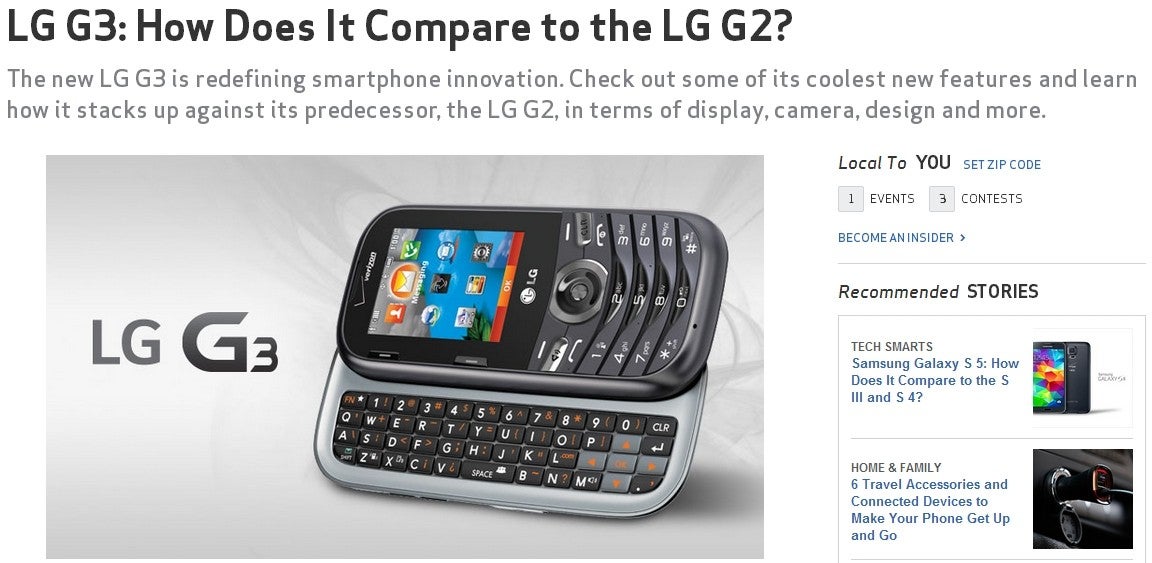 Other than this hilarious error, the text comparing the G3 to the G2 isn't bad - you'll find it at the source link below, alongside the QWERTY phone that's presented as the G3. Of course, Verizon will probably fix this up pretty soon. Until then, you can certainly check out our
LG G3 vs. LG G2 comparison here
. No mixed-up photos, we promise!
The new LG G3 is expected to be released by Verizon (and all other major US carriers) later this month.
source:
Verizon
via
Droid-life