LG G2 colorful back covers surface
23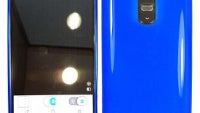 The G2, LG's upcoming Android flagship, has surfaced once again, this time dressed in colorful back covers including a vivid blue, red and a gray one. The handset has leaked out extensively over the last couple of weeks and by now almost everything about it has been uncovered in rumors. In the images below also get to once again see how LG put its volume rocker unconventionally on the back of the device. This would probably be one of the highlights of the device as it should contribute to better ergonomics.
Most recently, we got to once again see the 5.2-inch 1080p display of the LG G2 and got a peek under the back cover where there is a 2610mAh battery. That should easily last a full day for even heavier users.
By now, the G2 has already passed FCC certification and LG has announced an official event for its unveiling on August 7th in New York City. Enjoy one more look at the upcoming device right below.