LG G2, Samsung Galaxy S4 or HTC One: which one would you pick?
89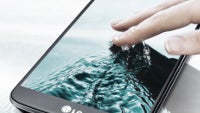 The LG G2 is out and it is a fascinating device. The first to feature the new Snapdragon 800 chip, it is different by design with its buttons on its back and a minimum screen bezel for an edge-to-edge feel.
The G2 also packs a 13-megapixel camera with optical image stabilization (another first), and it's got brilliant audio recording capabilities to capture studio-like sound. Last but not least it uses an LG Chem stacked battery that is of the whopping 3000mAh capacity, plenty of juice to last you a full day or why not even two.
With all those high-end specs, the nerdiest of Android geeks should be happy. Now, if you were to choose right now between the most popular Android smartphones out there, which one would you pick? Do you still prefer the Galaxy S4 with all of Samsung's added features or would you still rather get a high-quality design in the form of the unibody aluminum HTC One?
Those are not your only choices of course - we have the customizable Moto X coming soon and the upcoming rumored Sony Honami. The evergreen iPhone as well is an option. We've grouped them all in the 'others' section, but you can voice your preference in the comments below. With no further ado, if you were to vote with your dollar right now, which one wins?