LG G Watch and Samsung Gear Live get software updates before full release
5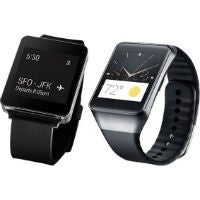 The only people who have their hands on the LG G Watch and Samsung Gear Live right now are the lucky few who went to Google I/O, but Google is already updating the software on the devices in preparation for the full consumer release coming next week. The LG G Watch may have already begun shipping to some users, and the Gear Live is scheduled to ship Tuesday.
The software update pushing out to both devices is build KMV78V, which is a modified version of Android 4.4 KitKat, labeled Android 4.4W. There is no changelog available, but the update is said to be very small, meaning it likely only includes some bug fixes. One specific fix that seems to be included for the Samsung Gear Live is for an issue which had the device inverting the watch face colors when the display dimmed.
Installing the update should be easy enough. The software will download to your phone, then transferred over to your smartwatch via the Bluetooth connection. We'll keep you updated if there are any bigger and more interesting fixes found in the software.