LG Clout already being sold by Verizon indirect locations?
This article contains unofficial information.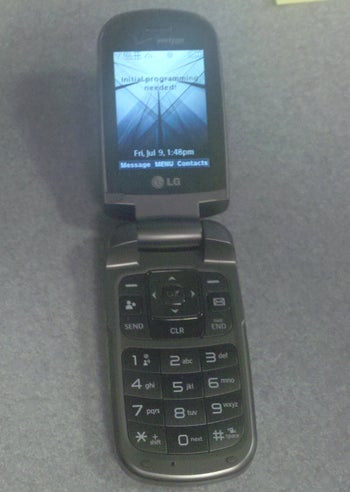 When the
LG Clout VX8370
was first spotted on the
Bluetooth approval site
last summer, who would have thought it would be a year later and Verizon still hasn't released the phone? We did get some hope when the LG Clout VX8370
showed up
on Verizon's internal site last week, along with a bunch of other phones, so we had a feeling it wasn't too far off. So far out of that group the Samsung
Haven
and
Intensity II
have been released, and we're hearing the LG Clout and Verizon Salute are close behind. But if you are really desperate to get an LG Clout now, it appears that Indirect Sellers/Authorized Agents have already started ordering and selling the Clout to customers, though it can't be purchased yet from Verizon's Corporate stores. Reports have it that the Authorized Agent locations are selling the LG Clout VX8370 for $39.99 with a 2-year contract and aren't forcing the $9.99 monthly data plan with it that is currently required by the
LG VX8360
. One person who already purchased the Clout says on Howard Forums that
"you can talk with the flip closed with the speakerphone....
you can also make a call without opening the flip....
signal is very good on this phone, went down a road today that a lot of phones break up and drop calls and didn't even have a hiccup....
buttons are huge and responsive...
earpiece volume is very loud." Features of the LG Clout VX8370 include a 2.2" QVGA internal display, 96x96 pixel external display, 2MP camera (no flash or autofocus), Dashboard with Mobile Web 2.0, Bluetooth, MP3 music player with front controls, 2.5mm headset jack, and supports up to 16GB microSDHC memory cards. Verizon has also posted the PDF User Guide on the LG Clout Support Page, and also the Interactive Guide to using the phone.

LG Clout VX8370 Specifications

source: Howard Forums (images by PeterB)