LG Canada: no Ice Cream Sandwich for the Optimus 2X
12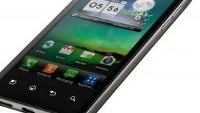 Yes, an LG representative
did
say last year that
the Optimus 2X was not going to be updated to Android 4.0
. And yes, a few days later the company confirmed that the Ice Cream Sandwich update for the first dual-core smartphone
was still being tested
, and LG of Singapore even recently stated that
the smartphone should get the update in Q3 of 2012
.
Today, the limbo continues with a statement from LG Canada posted on Twitter:
"
The Optimus 2X will not be receiving the ICS upgrade.
The original upgrade announcement was a general statement issued from HQ."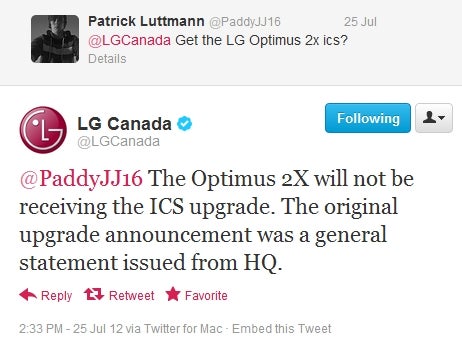 But why? With its 1GHz dual-core Tegra 2 processor and 512MB of RAM, the smartphone should be well capable of handling the platform. The recently announced
Sony Xperia tipo
, for example, has a far less capable 800MHz single-core processor, yet has Android 4.0 pre-installed.
Perhaps LG is just more focused on promoting its newer Android smartphones, some of which
do
come with Android 4.0 out of the box, instead of supporting its "legacy" devices, but that is just our guess.
LG Optimus 2X
owners, you might want to start researching what that
CyanogenMod
thing is all about.
Thanks for sending this in!