Kuo: Dual camera setup on Samsung Galaxy Note 8 to top the dual snappers on the Apple iPhone 7 Plus
13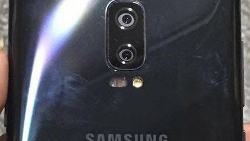 NOTE:
Photo on left shows what is alleged to be a prototype of the Samsung Galaxy S8+ with a dual camera setup. Some believe that it is actually a prototype of the upcoming Galaxy Note 8.
KGI Securities reliable Apple analyst Ming-Chi Kuo just might be the best analyst following Apple. Over the years, he has been uncanny at telling clients exactly what features to expect on the next-gen Apple iPhone. Now, turning his attention to Samsung, Kuo has passed along a pair of notes to clients. The first note says that market response to the
Samsung Galaxy S8
and
Samsung Galaxy S8+
has been better than expected.
For 2017, Kuo has raised his estimate of Galaxy S8 and Galaxy S8+ shipments from a range of 40 million-45 million units to a higher estimate of 50 million-55 million. Kuo's analysis finds consumers thrilled with the full-screen design. Originally, Kuo saw nothing in the Galaxy S8 that would take buyers away from the
Apple iPhone 8
. The analyst has now changed his mind, and he has turned optimistic about the
Samsung Galaxy Note 8
.
"According to our survey, market feedback to Galaxy S8 and Galaxy S8+ has been better than expected since their unveiling. We attribute this to a better- than-expected selling point in the full-screen design. For this reason, we revise up our 2017F S8 shipments from 40-45mn units to 50-55mn units. Post-launch market response a big thumbs up for full-screen design, offsetting our concerns. Although the full-screen design has not created any new applications, its form factor will be effective in attracting high-end users. This is why market feedback has exceeded our expectations."-Ming-Chi-Kuo, analyst, KGI Securities
Speaking of Samsung's next high-end phablet, Kuo told clients that a rear placed dual camera setup for the Galaxy Note 8 will be "the most important upgrade" for the device. It will feature a 13MP wide angle camera and a 12MP telephoto snapper on back, with a 3x optical zoom. Both will feature OIS and have six-element lenses. According to Kuo, the camera on the back of the Galaxy Note 8 will top the dual camera setup found on the back of the
Apple iPhone 7 Plus
, and will match the dual camera setup expected to grace the rear of the 10th anniversary iPhone. Kuo called the latter model "the OLED iPhone," and while many of us in the media have called it the iPhone 8, the official name could be the Apple iPhone Edition.
Kuo also confirmed some specs pertaining to the Galaxy Note 8. The analyst says that it will feature a 6.4-inch Super AMOLED display with a 1440 x 2960 resolution (QHD+). The Exynos 8995 chipset or the Snapdragon 835 SoC will be under the hood depending on where the device is purchased.
source:
9to5Mac