Kouziro creates mega-tablet – 21.5 inches of Android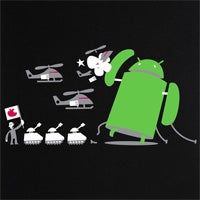 Kouziro has just announced the FT103 tablet. This behemoth sports a 21.5-inch 1920 x 1080 display. Interestingly, the device only works in landscape mode. Considering it clocks in at 512.8 × 24.8 × 353 mm and a little over 11 lbs., maybe portrait mode really isn't its thing.
The FT103 has a 1GHz dual-core processor, 1 GB of RAM, 8 GB of onboard storage, microSD slot, USB 2.0 ports, stereo speakers, micro HDMI, microphone, headphone jack, Wi-Fi, Bluetooth, 1.2-megapixel camera, and runs Android 4.0 Ice Cream Sandwich.
If you're in the market for a heavy, gigantic tablet with lackluster specs, the Kouziro FT103 will be launched in Japan in late July for 34,800 Yen, which is about $440.