Meet the oddest smart speakers with Google Assistant: Klipsch brings the steampunk to CES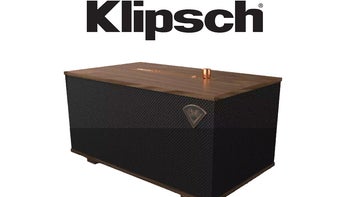 Klipsch
, a company whose bread and butter is the full scope of audio gadgetry you could possibly think of, has just unveiled what's quite possibly the most out-of-place new smart home speakers at CES 2018.
You'd be forgiven for mistaking
Klipsch's
new products for a vintage 50s radio that weighs a good 40 pounds. Dubbed The One and... the Three, these smart speakers are part of
Klipsch's
Heritage Wireless series and feature materials that you'd rarely stumble upon in this day and age: wood veneer as well as genuine copper knobs and switches that are calling back to an era when everything was a tad simpler and lasted a bit longer.
This steampunk aesthetic might be a bit odd for an innovation expo like CES, where everything is shiny and chromey and synthetic.

The Three wireless speaker is a turntable with a subwoofer under the trunk, whereas The One is more portable thanks to the rechargeable battery inside, and both devices are Google Assistant enabled, which means that they'd always respond to the 'Hey, Google' hotword although they look like something from the past century.
Priced at $499,
Klipsch
The Three will launch in the US this fall, whereas the smaller-sized The One will cost $349 but will launch in early 2019.
Recommended Stories