Kids who pay for their own phone are 4 times more likely to Sext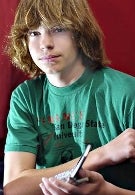 According to the Pew Report, kids who buy their own cellphone are four times more likely to Sext. Some of these sexually charged images make it into the 3,000 reports received each week by the National Center for Missing and Exploited Children. The report polled 2,553 19 through 29 year olds and 800 between 12 and 17. 75% of teens have a cellphone and 15% of them have received a text message containing sexual imagery of someone they knew, through their cellphone. Of that group, 4% have themselves sent such a picture.
59% of teens in a family with household income under $30,000 have a cellphone while 75% in "wealthier" families own them. 55% of 18-29 year olds access the internet from a phone. Cellphone usage has grown dramatically. 75% of teens and 93% of adults aged 18-29 now own a cellphone. In 2004, 18% of 12 year olds had a cellphone. That number is now 58% and should continue to rise as pricing becomes cheaper and kids become more tech-savy. Check out the source link for more results from the survey.
source:
PewReport
via
CrunchGear