Kickstarter listed backpack will recharge your mobile devices
15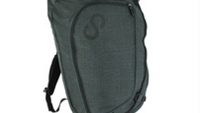 Looking for funding on Kickstarter, is a backpack that can charge your devices while on the go. There are two versions of the product. The model that uses a smart charger to power up your mobile devices is called the
Colfax
. The smart charger is built right into the backpack, and the charging pockets are padded to baby your tablets or handsets. In fact, the case is water resistant and protects the products inside from shock.
The smart charger senses power demand, and when it is time to recharge the cell, plug the included cord into an outlet, and the Colfax figures out exactly how fast it can safely send the most power to your devices. Any leftover energy is used to charge the lithium polymer battery.
The premium model, the
Colfax PHD,
features the charging capabilities, but also includes a 500GB hard drive that gives you access to your files. Using a USB 3 hook-up, or a Wi-Fi connection (the pack broadcasts its own secure Wi-Fi network with a range of 150 feet), you can send your files to your tablets and/or smartphones even when offline. With 500GB of storage on the hard drive, you can free up the memory on your phone and/or tablet.
The Colfax is expected to sell for $349 retail, but those funding the project can get one for as low as $199. And the Colfax PHD will have a retail price of $495, although you can have one shipped to you for a pledge of $375. The packs are expected to ship in December. But before they do, the creators need to raise $80,000 by June 26th to fund their production in Vietnam. Currently, the project has raised a bit over $8000.
If you'd like to see Colfax and the Colfax PHD survive, you can visit the sourcelink to help fund the project. One possible problem is that the demographic that might find this a worthy purchase, might not consider spending $349 or $495 for a backpack.
source:
TheColfax
via
CNET