Key Lime Pie found running on Google Nexus 4 and Google Nexus 7?
34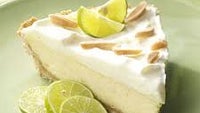 While Android 5.0, aka Key Lime Pie, has never been announced, it seems that the OS build might have been caught powering the
Google Nexus 4
handset and the
Google Nexus 7
tablet. A developer, "dknandiraju", posted a list of his devices running Chromium. The list showed devices like the
Samsung Galaxy S4
and the
Samsung Galaxy S III
running on build versions
beginning with the letter "J"
. In Google-speak, that means that those devices were powered by Jelly Bean, either Android 4.1 or Android 4.2.
So when we take a look at the build versions powering the Google Nexus 4 and the Google Nexus 7, we see that both of those devices are running build versions beginning with the letter "K". This could be the first sign that
Key Lime Pie
is going to be powering the next Nexus smartphone which could be ready to greet the world around the time of the next holiday shopping season. There is
some speculation that a version of the LG G2 could be the next Nexus phone
.
Originally, Key Lime Pie was expected to be introduced at this year's Google I/O developer conference, but
Google was allegedly asked to delay its release by manufacturers
who still hadn't updated their devices to Android 4.2.2.

Are we looking at Key Lime Pie in use here?
source:
CNET