June's Android distribution figures are released; Android 6.0 is now on top
28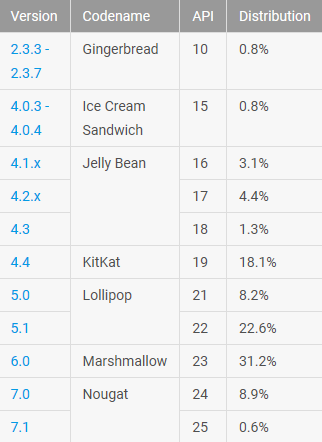 A leading 31.2% of Android phones are running on the Marshmallow build of Android
If it's the first week of the new month, it must be time to take a look at the latest Android distribution numbers. And as you might suspect, the percentage of Android phones using the latest Android 7.0-7.1.1 builds (Nougat) has increased. This time, the addition amounts to 2.4 percentage points, thus taking Nougat's share to 9.5%. The biggest slice of the pie belongs to Android 6.0 (Marshmallow), which now can be found on 31.2% of Android devices. That is followed by the 30.8% of Android flavored phones and tablets that are powered by Android 5.0-5.1 (Lollipop). Last month it was Lollipop that had a slight lead over Marshmallow. But more Android 5.0-5.1 users are exchanging their handsets in for a new model, which has the effect of giving Android 6.0 the top spot.
In third place is Android 4.4 (KitKat) with 18.1%, followed by Nougat's 9.5%. Android 4.1.x-4.3 (JellyBean) now is found on 8.8% of Android phones. That leaves a tie between Android 4.0.3-4.0.4 (Ice Cream Sandwich) and Android 2.3.3-2.37 (Gingerbread) for last place. Both of these builds have .8% of the Android market.
Keep in mind that the figures are based on data collected over a seven-day period that ended June 7th. Next month, we should see Nougat continue to gain share while Lollipop continues to fade, and Marshmallow barely moves. So if we were to predict next month's top Android build, we'd expect Marshmallow to make it two straight months at the top.
source:
AndroidDevelopers
via
AndroidAuthority