Judge rules text sender not liable in crash that cost two victims a leg each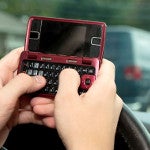 A judge in New Jersey state Superior Court in Morris County found that a New Jersey woman who had sent a text to her boyfriend
was not liable for the subsequent crash that occurred
when her boyfriend crashed his car into a motorcycle while reading her text message. The accident claimed one leg from each of the two riders on the bike. 38 states have a ban on texting while driving, but the legal theory in this case was novel
steering with his elbows, with his head down. And I could tell he was text messaging
." The message that Best was responding to while driving had been
sent to him by his girlfriend, Shannon Colonna
. In the accident, David Kubert had his left leg torn off above the knee, while Linda Kubert eventually had her left leg amputated. This has become too common as 24% of vehicle crashes can be blamed on the use of a mobile handset while driving, according to government statistics.
Kyle plead guilty to three motor vehicle violations, including using a handheld device while driving. The Kuberts were suing him in civil court and for the first time in legal history, the Kubert's attorney
also sued Ms. Colonna for sending Mr. Best the text messages
. The theory is that her texts distracted him and according to Skippy Weinstein, the Kubert's attorney, Ms. Colonna.should have known her boyfriend was driving home when she sent the texts. She admitted that she "may have known" he was driving at the time she sent the text messages. That day, the pair sent each other 62 messages.
This is what teenagers do
." He had argued that she was "
electronically present
," at the scene of the accident. The Judge thought otherwise. The question now is
how much of a precedent this ruling will become
and we will see if other attorneys sue the actual text sender in other civil cases as a result of this suit.
source:
KKTV
via
Textually.org