Judge rules FCC must produce data about suspicious comments received during net neutrality debate
4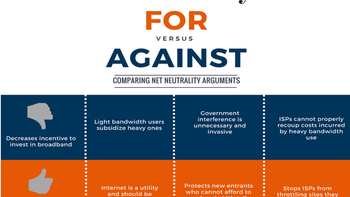 A U.S. District judge ruled last week that the FCC must turn over records to a journalist who would use the data to identify those who uploaded bulk comments to the FCC in reference to net neutrality. A number of these uploads were allegedly submitted in other people's names without their permission. Net neutrality is the Obama-era rules that force ISPs and wireless providers to treat all content streams the same. It prevents them from getting paid to stream content over "fast lanes" and also blocks them from throttling or blocking content that they disagree with.
Last year, the Trump-era FCC voted to repeal net neutrality and
the latter was erased from the books last June
. FCC chairman Ajit Pai was supposed to use comments from U.S. citizens to help him form a decision about whether the FCC should keep or repeal net neutrality. One would have assumed that the majority of comments were against net neutrality based on Pai's subsequent actions.
But as it turned out, a report last year put together by Emprata LLC said that 90% of the 21 million comments (a record number, by the way) received by the FCC were form letters already typed out, and millions of other comments were suspicious for other reasons. Many were sent using fake names, or used the names of other people without their permission. The company says that overall, the majority of Americans were not in favor of repeal, which the FCC did anyway. 13 million comments were sent in support of net neutrality, while 8.6 million comments were in favor of repeal.
In September 2017, a freelance journalist named Jason Prechtel, requested some documents from the FCC under the Freedom of Information Act; these documents would have identified those who sent the agency comments in bulk. Many of those comments were said to have been sent in other people's names without their knowledge. After the FCC refused to turn over the data sought by Prechtel, the journalist sued the FCC resulting in the ruling against the regulatory agency.
"As you know, the whole point of this FOIA request-turned-lawsuit is to find out who exactly posted bulk comments to the FCC's public comment system and to see if any of the already confirmed fake comments can be linked to a particular bulk submitter's email address or API key registration info. Whatever I ultimately win determines what kind of analysis I can do, but after I present my findings in whatever manner seems most appropriate, I will put the records online for others to conduct their own analysis."-Jason Prechtel, freelance journalist
The FCC has not commented on the ruling, which was announced last week, and has not decided yet whether it will appeal. For his part, Prechtel expects to receive the data, analyze it, and post the results online.