Jolla's back with a new Sailfish OS phone: limited-edition Jolla C
10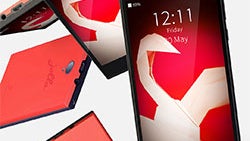 The dream of alternative smartphone platforms never found the great mainstream success it was looking for. Operating systems like
Firefox OS
,
Ubuntu Touch
, and
Sailfish OS
were supposed to give users options beyond the rank-and-file Android and iOS, but the latest statistics show
the dominance of those two main platforms is only growing
. Jolla, the company behind Sailfish OS, has been through some particularly trying times, releasing a smartphone that despite its innovative design was still poorly received (
review
), and
crowdfunding a tablet
that's suffered setback after setback. Despite its struggles, it seems that Jolla's not done with mobile hardware just yet, and today reveals its new limited-edition Jolla C handset.
Jolla appears to have figured out by now that its products – and Sailfish OS itself – aren't for everyone. But the company
does
have its fans, and it's reaching out to them through the new Sailfish Community Device Program.
For about €170, users can join the program and get access to special online support sessions, invitations to events, and a new phone: the Jolla C. The limited-edition handset is only being made available in a production run of 1,000 units, making it one of the most exclusive smartphones we've seen.
The phone features a five-inch display (in a relatively low 1280 x 720 resolution), a quad-core Snapdragon 212 processor, and an 8MP/2MP camera pair. Storage is a conservative 16GB, though there's room for microSD expansion. A 2,500 mAh battery powers the phone. Unlike the first Jolla phone, there's no funky "Other Half" modular back-panel action here.
The Jolla C runs a pure stock version of Sailfish OS, and select users will have the chance to try out bleeding-edge beta releases.
Lest you think that the combination of a not-particularly-popular mobile platform and some hardware that might be better suited for a 2012 release would add up to an unappealing package, those 1,000 slots in the Sailfish Community Device Program – and the Jolla C handsets that go with them – have already sold out.
Can Jolla find success by keeping things small for a while, further refining its offerings, and maybe trying again when the market's ready? All we know is that the company seems determined to stick things out, and isn't giving up yet.
source:
Jolla
via
Phone Dog