Jolla provides a video tour of its upcoming Sailfish OS
56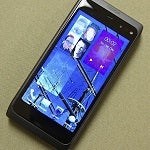 There is a lot of excitement building for Jolla's MeeGo based Sailfish operating system. Last month we got to see a
promotional video of what Sailfish would have in store for us
. Now we get to see things running in real time.
Immediately, you will see elements that are familiar with MeeGo when it made its sole appearance with the
Nokia N9
. Sailfish builds on MeeGo quite effectively, and from the looks of what we get to see in the video below, there will be a lot of appeal. The user experience is very gesture centric, and many native apps respond to gesture commands even when those apps are represented as a card on the home screen. Unlike the N9, the screens are accessed vertically, rather than horizontally. The horizontal gestures allow you to exit an app (from left to right) or place it in the background (right to left).
One neat feature is accessing menu options within an app. To do that, instead of pushing a menu button on the screen, simply swipe a gesture downward and the available menu options are presented. Another feature that is reminiscent of what we have seen with BlackBerry 10, is the ability to "peek" at notifications by partially swiping in from the right side of the screen. Then there is a "depth indicator" which gives you a way to quickly see how deep into an application you are.
The apps we see in action are fairly representative of what we will see on the final build of the OS. Of course, we do not get to see much except for part of the contacts app, photos and home screens. It is enough however to get a little more excited about Sailfish's debut hopefully sometime in the first quarter 2013.
source:
Engadget