John Chen's wife uses a Samsung branded smartphone
52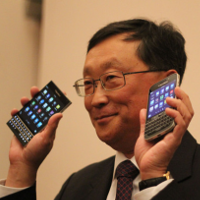 BlackBerry CEO John Chen has done a tremendous job after one year as the company's CEO. At the time he replaced Thorsten Heins, thinks looked as bleak as could be. But now, there is hope. The
BlackBerry Passport
has become a hit
, and the
BlackBerry Classic is due out next month
. The former has become one of the top enterprise-centric handsets around, while the Classic brings back the trackpad and function keys.
But there is apparently one piece of news that Chen cannot do a thing about. It seems that his wife is a huge fan of Samsung Galaxy handsets. Speaking to the Financial Times, the BlackBerry executive said that his wife drew some stares at parties when she took out her Samsung branded phone. "
So eventually I said she needed to use a BlackBerry
," said Chen. "'
No, I like my Samsung,' she said, and I told her she was embarrassing me
," the executive recalled.
While Chen has made some comments about
BlackBerry being officially a survivor
, and said that the worse is over, the executive did add that morale is not in tip top shape yet, but is not a low as believed. He added that the Passport was designed to "
make our devices a bit more pleasing to those people
" who love the BlackBerry QWERTY keyboard, and need a secure platform.
So what about his wife. Is Mrs. Chen still using a Samsung phone, or has she become a believer in the turnaround as well? "
That I wouldn't know
," said the company's top executive. "
There might be a lot of secrets I don't know
."
Thanks for the tip!
source:
GlobeandMail