Joe Belfiore uses an iPhone during his hiatus from Microsoft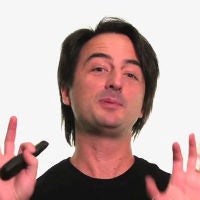 It's always amusing when it turns out a big name at a company like Apple, Google or Microsoft uses a product made by the competition. Of course, there can be plenty of good reasons for this, not to mention some grey areas in when it feels right to call out that big name. The latest scenario comes with Joe Belfiore, Microsoft's vice president of Windows and user experience.
Belfiore announced back in October that he was taking an extended hiatus from his position at Microsoft, where he has worked for the past 25 years. Belfiore said he was going to spend a "Semester at Sea" on an educational trip with his family before going back to work in the summer of 2016. The latest leg of his journey has taken him to Japan, where he visited Kyoto (one of the best cities around.) He tweeted a picture from a hair shrine, which is fun given that he is pretty well known for his hair. The thing is that the tweet was sent using Twitter for iPhone, not via a Windows Phone device.
On it's face, it seems like a moment for Internet trolls to heap on (which we're sure they will, because no troll will have gotten this deep into this article. They're likely already laying waste to the comment section with useless hate.) But, as noted, this is a bit of a grey area. Belfiore is on an extended hiatus from the company, so it's not hard to believe that he wants to leave work behind completely, including his Windows devices. Maybe he was testing the
new keyboard Microsoft released for iOS
. Or, maybe he just wants to get some in-depth time with the competition to see where Microsoft needs to improve and where it already has the
edge
.
Microsoft expert Paul Thurrott said that Belfiore had been planning to use other devices while traveling. And, Belfiore even got in on the joke, saying that he was sorry he'd forgotten his Palm Pre because he said "that tweet would have totally thrown [us] all." He's probably right on that.