Jelly Bean adds camera interface tweaks, easier image preview
10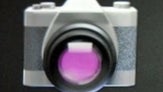 One of the things that Android 4.0 Ice Cream Sandwich made possible was taking photos instantly. As we first experienced while checking out the
Samsung Galaxy Nexus
, the delay between tapping that shutter button and the moment the photo is taken was brought down to a minimum.
So what does Android 4.1 Jelly Bean improves on then? Well, reviewing photos is what can be done quicker in the platform's latest major release, which just got announced. When viewing a photo, pinching out brings forth a film strip preview interface, and photos can be previewed with a swipe to the side. Doesn't sound like much, but the solution looked pretty neat when it was demonstrated during the Google I/O opening keynote. Even videos run when being previewed, instead of being nothing but a thumbnail, which is a pretty nice design touch. Wanna share a photo? Just tap it! And if you don't like it, just swipe it away. You know, just like when we closed cards back in the days when webOS was still a thing. But don't worry - if you delete a photo by accident, that can be undone.
So yeah, minor touches to the camera experience, but it is the little things that make a difference, right? Do you like these new camera tweaks in Android 4.1 Jelly Bean?
Recommended Stories