Jeb Bush vs Apple Watch: "My watch can't be talking!"
19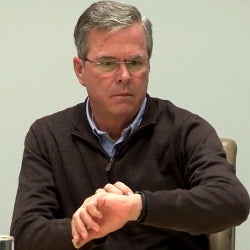 Technology and presidents usually don't mix well. The chief reason for this is usually in the strict security clearances that often make it impossible for the highest-ranking officials to use the latest gadgets, but when it comes to presidential candidate Jeb Bush from the Republican Party, there were no such restrictions. He was just plain surprised to see what amazing things his smartwatch is capable of.
Bush, known to have an affinity for Apple products, surprisingly got a phone call on his
Apple Watch
in the middle of an interview and looked in confusion as a voice out of the Apple Watch was trying to talk to him. The presidential candidate could not believe what was going on, saying that it can't be the watch that's talking.
Well, one of the journalists at the event enlightened Mr. Bush that it is in fact the Apple Watch that is relaying a call, and you can watch the hilarious moment as it happened right below.