It's the real deal: HTC One X coming to AT&T on May 6th for $199.99 on contract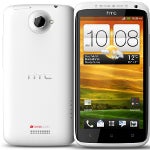 The first Android device to launch from AT&T with Android 4.0 installed, the
HTC One X
, will be available to AT&T customers starting on May 6th. The flagship model will be priced at $199.99 with a signed 2-year contract. Other AT&T firsts with this model include it being the first Beats Audio device for the mobile operator and the One X is also the carrier's first HTC unit with Sense 4.0 aboard.
Pre-orders will be accepted starting April 22nd
online and at AT&T locations. This version of the HTC One X replaces the quad-core Tegra 3 with the dual-core 1.5GHz Qualcomm Snapdragon S4 processor which features integrated LTE connectivity. This should allow for better battery life than seen on other LTE models that require a separate radio. All of a sudden that
unit up for sale on Craigslist yesterday
(which was subsequently taken down) doesn't seem like a great deal anymore.
source:
AT&T