It's (kind of) official: Note 3, Note 4, Galaxy S4, Galaxy S5 LTE-A to get Android 5.0 Lollipop in "early 2015"
16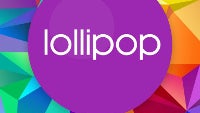 It's probably safe to say that Android 5.0 Lollipop is the hottest, most wanted update in the OS' history. Sure, KitKat, too, didn't lack attention, but if we're talking scale of changes, that one is honestly nothing fancy in comparison.
Naturally, then, with Lollipop
being
a big deal, pretty much every technology-inclined owner of an Android device is wondering when Lollipop will happen on his screen. We can't talk for all smartphones, of course, but, as it turns out, those made by Samsung will be getting the update in early 2015. At least some of them.
Indeed, Seoul-based Reuters tech correspondent, Vincent Se Young Lee, earlier today took to Twitter to share Samsung's plans for a few flagship devices as far as Lollipop is concerned. According to the apparently official info, the
Samsung Galaxy Note 3
,
Note 4
,
Galaxy S4
, and
Galaxy S5 LTE-A
will all get the latest sweet thing sometime "
in early 2015
". We can't know for sure, but it is unlikely that these will be rolled out simultaneously. Instead, Samsung will likely start off with the hotter models first, like the Note 3 and Note 4, and then continue on with the S-line. That is, of course, if nothing goes wrong between now and then.
We'll continue keeping our ear to the ground.