It's an iPad and Galaxy Christmas! Apple and Samsung increase tablet shipment orders for December
15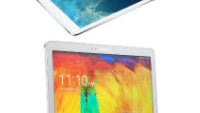 A few months ago, Tim Cook famously said that this year we would be having an "
iPad Christmas
", which sounded all well and good until you started looking at some of the recent trends in tablet sales. The iPad is still the most popular single tablet, but overall the Android army is taking over the tablet market, led by Samsung. Now, we're hearing that both companies are looking to increase tablet shipment orders for December.
The report comes from
DigiTimes
and its (hit-or-miss) sources in the Taiwan supply chain. Word has it that Apple has increased the Q4 2013 iPad shipments orders from about 20 million units up to 23-25 million units; and, Samsung is also increasing its tablet orders for the quarter from over 10 million units to about 12 million units.
The important info that is missing from the report is how many of those new Apple orders are on the full-size iPad Air, or the iPad mini with Retina Display. We would hope that it is for the mini, because that is the tablet that has been having production issues and shortages on store shelves. It's unlikely that you'll have trouble finding an iPad Air if you want one, but the minis are still hard to find.
One thing is for sure, it will certainly be a tablet Christmas.