It's Samsung's fault that Judge Koh can't lift the ban on the Samsung Galaxy Tab 10.1
20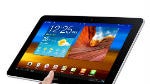 The impact of Apple's recent win over Samsung on various patent and trade dress charges have still yet to be completely sorted out, including the fact that Samsung is still unable to sell its Galaxy Tab 10.1 tablet, even though that was the one win Samsung had in the case. Samsung lost on almost all counts, except for the design charges levied against its tablets, it did lose on utility patents on tablets, but even with that Judge Koh would have lifted the bad if she could.
Unfortunately, Samsung's own actions have led to the troubles. It seems that because Samsung was quick to appeal the original ban on the Galaxy Tab 10.1, that appeals process keeps Judge Koh from being able to lift the ban, even though the jury found that Samsung wasn't infringing on Apple patents with its tablets. According to Koh, "Samsung's pending appeal of the June 26 Preliminary Injunction deprives the Court of jurisdiction to dissolve the injunction until and unless the Federal Circuit returns jurisdiction to this Court."
The tablet can still be purchased via T-Mobile or Best Buy, but can't be sold by Samsung. Of course, it may not matter all that much anyway since the Galaxy Note 10.1 has essentially replaced the Tab 10.1 in Samsung's tablet lineup.