Is this the next generation iPhone?
17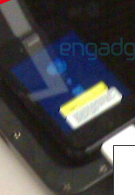 A picture published by Engadget apparently contained an image of the next generation iPhone and no one knew for more than a week because the iPad in the picture overshadowed it. Apple Insider says that tipsters with an "impeccable" record in these matters, say that the images of a handset in the picture below is indeed the 4th generation iPhone. Engadget says that the photo was published without any editing tricks. What we can see is an iPhone without the telltale aluminum bezel. Instead, the phone is surrounded by a black plastic or aluminum material. Or, it could be covered with a rubber protective holder similar to what the iPad it is laying on is wearing.
The new iPhone is expected out this summer, and if the picture is the real thing, it looks like the same form factor for the next generation of Apple's touchscreen device. In fact, based on what we see here, one could go out on a limb and say that most of the changes made will be under the hood. Like the iPad, the new iPhone is expected to use Apple's in-house chips. The iPad uses the A4, Apple's own speedy 1GHz processor. With the growing number of handsets that are equipped with Qualcomm's zippy 1GHz Snapdragon, it wouldn't be too much of a stretch to see the A4 being employed on a new iPhone. According to Apple Insider, those in the know about the handset say the home grown system on a chip package, along with software enhancements, will allow the new version of Apple's touchscreen device to offer a faster interface and longer battery life. In a discussion last week between the WSJ's Walt Mossberg and Apple CEO Steve Jobs, the executive said, "It's all about the display. Our chips don't use hardly any power."
source:
AppleInsider