Is this FCC filing for the Motorola DROID 4?
9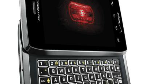 A new filing from Motorola has just passed through the FCC, but unfortunately there isn't enough identifiable information to pinpoint what device it is, although the smart money is on the DROID 4.
The FCC filing is for a Verizon device with a world-phone radio compatible with CDMA/LTE, GSM 850/1900, WCDMA and EDGE. Although, the filing notes that the GSM/EDGE/WCDMA options "have been disabled by firmware and are SIM locked for all US carriers", so this device is Verizon-only. As we said, there is nothing to confirm this as the DROID 4, but the information all fits.
We know the DROID 4 is launching soon, but we hadn't seen any device that could be a match pass FCC testing. Also, the DROID line has historically had world-phone radios inside even if they are locked to Verizon. And, most importantly, Motorola doesn't have any other Verizon LTE devices coming down the pipeline, so there's really nothing else this filing could be.
source:
FCC
via
Droid-Life