Is there an app for this? Smartphones tie with sex as the thing Business pros must have
This article contains unofficial information.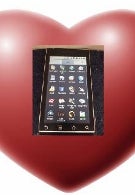 RingCentral is a business phone provider that offers cloud-based services. In a survey of 400 of the company's customers-which are in the small to medium size of U.S. businesses, the importance of the smartphone becomes apparent. Both the smartphone and sex tied at 40% as the number one item that those responding say they cannot live without. 79% use their smartphone to make business calls instead of using an office or homephone. Today's smartphone has been called a mini-laptop and this shows up in the survey as 34% use the phone more than a computer for business. If they own a smartphone, 7% don't even bother taking a laptop on a business trip. Lastly, 48% of those answering said that two-thirds of their communication via phone is done on a smartphone. Because of the abilities of iPhone and Android powered devices, today's smartphones can handle many of the chores that a lap top used to handle-plus it also is a phone. It seems that smartphones can replace just about every business tool that the pros need, without having to smoke a cigarette when done.
source:
Mashable