Is the return rate on the DROID 2 the lowest out of all smartphones on Verizon?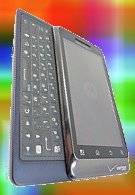 You have to love that catchy phrase Verizon concocted when they released the Motorola DROID almost a year ago – DROID DOES! From the sound of it all, the Motorola DROID 2 is doing some wonders for the nation's number one service provider as it's reported to have one of the lowest smartphone return rates for the carrier. Even despite the issues that have been reported regarding some problems with its antenna, the handset continues to make headlines as being one of the most popular devices to be launched during this busy summer season.
When you think about it, the reasoning is pretty considerable when you factor in its flexibility of being a touchscreen device combined with an improved physical QWERTY. Hardware aside, the platform experience is substantially top-notch in almost every category – plus it's still one of the few handsets to boast Android 2.2 and support for Flash 10.1. Naturally, all of those viable reasons can cement the handset's position as having an extremely low return rate.
Motorola DROID 2 Specifications
|
Review
source:
BGR