Is the iPhone X worth buying?
85
The
iPhone X
is the long-awaited "all-screen" iPhone. It has been imagined numerous times over the years by various concept artists. And when rumors and leaks confirmed it to be a thing in 2017, the tech world braced for the coveted announcement. That announcement has now come and past and every iPhone user out there is probably wondering "Should I upgrade to the iPhone X or stick to one of the cheaper models?". Well, here's what the iPhone X has over any other handset in Apple's lineup:
Hands down, it's the most futuristic-looking iPhone ever. A 5.8-inch display surrounded by a thin, easy-to-handle frame looks good and is surely going to be comfortable to hold. The metal on the side is actually stainless steel, instead of aluminum, and the back is covered by highly-durable glass.
In the design department, it certainly looks like the most desirable iPhone. But it's not all about design, is it?
Software
For the first time ever, we get an iPhone that controls quite different than any other handset that Apple is currently selling. Since the iPhone X has no home button, it makes use of a swipe-up gesture to close apps. Experienced iOS users will wonder "well, how do you call up the Control Center to adjust brightness, then?". The Control Center is now pulled out from the top-right portion of the screen... Yup, that tall 5.8-ich screen, you need to reach all the way to the top.
If you want to enter the recent apps carousel, you perform the swipe-up gesture, but hold it for a second. There's also a really nifty new way to switch between recently used apps — just swipe left or right across the bottom of the display.
Hardware
On the inside, the iPhone X is powered by the same A11 Bionic chip as the iPhone 8 duo. There is a subtle difference in its telephoto camera – it's assisted by an optical image stabilization module and has an aperture of F2.4. That's wider than the iPhone 7 Plus' and the 8 Plus' aperture of F2.8 and the latter two lack an OIS module around their secondary cameras.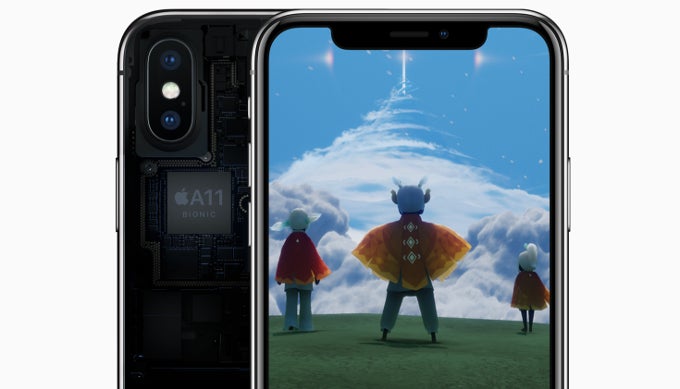 It's also worth noting that the iPhone X is the only iPhone with an AMOLED panel — the technology that Samsung's phones are known for. It will have deep blacks for some extremely high contrast and is as color-accurate as we'd expect from an iPhone, Apple says. It also has a super-high resolution of 2436 x 1125 pixels, making for 459 pixels per inch — the sharpest phone screen Apple has made thus far.
So, what's the final verdict?
If you consider yourself a casual iPhone fan, we can't help but think that you'd do fine with a regular
iPhone 8
/
Plus
. In fact, if you have an
iPhone 7
or
7 Plus
, you're good to keep it for at least a year more, without bothering much about upgrading to the latest-and-greatest. The iPhone X is, for the most part, an all-screen design and a really, really advanced selfie camera. The "regular" iPhone models still feel and operate as before, with the home button, Touch ID, and the Control Center "where they should be", and they still pack powerful, powerful hardware in their core, so, really, you are not missing out on much.

Of course, if you are an "early adopter" or just need to have the biggest and baddest phone Apple has to offer, you will be hard-pressed not to go for the iPhone X. You get a unique design that will turn heads for sure, you will be able to brag over iMessage with your fancy Animoji, and you will enjoy the deep blacks and extremely high resolution of the new OLED panel. The question is, do you want to drop $1k on these "advantages"?