Is Verizon messing up customer's iPhone 4 pre-orders?
40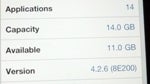 Unless you've been living under a rock for the past week, you're probably aware that the Verizon iPhone 4 pre-sale went live last Thursday and
sold-out
in only a few hours. However, not everything is roses in Verizon's iPhone land, as it appears that some customer's orders are being mixed-up. One person, J, who sent us the photos below, says that he ordered the 32GB model, and that is what is shown on he box, but the iPhone is actually a 16GB model and the MEID is registered under someone else's name. It took few calls to Verizon for him to get it activated, and basically had to restore the phone back to defaults for it to work and sync with iTunes. Verizon also refunded him back the $100 price difference.
Thank you J!
It appears that he is not alone, as another Verizon customer also recieved the wrong device, and posted a video about it on
CNN iReport
.
Let us know in the comment section below if you happened to received the wrong iPhone 4 from Verizon.