Is Sprint planning on throttling data starting this summer?
This article contains unofficial information.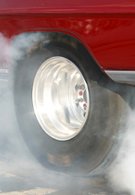 Glaringly visible on what looks to be Sprint's Playbook, the big words of point number two can easily scare some newly crowned HTC EVO 4G owners out there as they play around with their high-speed and data eating smartphones. Most owners probably overlooked the fine print in their contracts where it says that the carrier has the right to limit data speeds without notice. Similar to what
T-Mobile has implemented recently
, data throttling may be happening over on Sprint as well. Granted though it may not seem as bad as
AT&T's recent move to eliminate unlimited data plans
, customers can still expect to eat as much data as they want, but it could be a painfully slow process. Time is surely winding down as it's expected to come sometime this summer, but we'd surmise that it would help alleviate the network strain that's probably expected out of the HTC EVO 4G's release.
source:
Engadget