Is Samsung looking into dual-camera device for next year?
58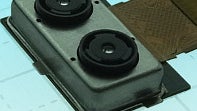 We have already seen all kinds of experiments with cameras on smartphones, and a dual-camera setup is nothing new: in fact, the 2014 HTC One M8 features a dual rear camera with the secondary cam used to capture depth information, adding that extra dimension to images, and allowing for the experimental bokeh-like effect to images that helps separate your subject from the background.
Now, rumors straight out of Korea claim that Samsung itself is testing a dual-sensor camera solution for an upcoming device. The report claims that the industry has reached a plateau in camera quality and the traditional method has its limitations, while this new dual-camera is allegedly 'the new buzzword' at Samsung Electronics.
Dual camera is said to be the new buzzword at Samsung
It's hard to tell how far in the testing process has Samsung advanced, or whether those tests will indeed results in a mass-market device with dual cameras. There's also no clarity on the purpose of that secondary camera. So far, we've seen such solutions being used to gather additional depth info to images, as well as allow re-focusing of the picture after you've captured it.
Some possible uses, however, are mentioned: the two cameras will allegedly be instrumental in better adjusting backlight brightness, help for smoother zooming as well as tracking of fast-moving objects.
The report also brings a quote from Samsung Electronics, saying something along the lines of (Google Translate warning):
"The Company currently has four concepts for the development of dual camera (backlight correction, zoom shooting, highlight, high-speed shooting), which will be complete in the second half of the year, and they will be adopted in the first half of next year."
source:
iNews 24
(
translate
)