Is Samsung going to launch a 4K tablet by the end of 2014?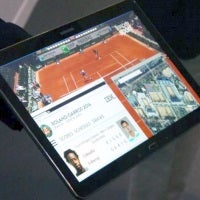 At times when we struggle to figure out how to make full use of a 2K display (like the LG G3's) potential, Qualcomm simply went ahead and demonstrated how a 720p video streams over LTE... to a 12-inch 4K Samsung tablet! While this clip probably filled a good chunk of bandwidth, it didn't fill nearly half of that monstrous display's available
pixel
estate, but this is beside the point. The tablet in question is a reference device that is said to look exactly like the
Samsung Galaxy NotePRO 12.2
. Reportedly, it ran on a Snapdragon 801 CPU, which goes to show just how much power there is in this thing.
So, does anybody want a 4K tablet? Although we have our reservations whether owning one is worth it in a reality that's mostly devoid of 4K content, Qualcomm's VP of Product Management said that ultra high-resolution tablets will be out before the end of the year. And if Samsung has one ready by then, there's a good chance it will launch it.
Speaking of Samsung tablets, the company will be demonstrating its latest Samsung Galaxy Tab S line on 12 June in New York. If the rumors are true, the Galaxy Tab S 8.4 and 10.5 will be spec-busters with 2560x1600 AMOLED displays, octa-core processors, 3GB of RAM, and 8MP cameras. Chances are there won't be 4K tablets there - after all, no one's going to demo a 4K display right after a 2K display if they intend to sell the latter, right?