Apple makes iWork free, spices it up with jabs at Microsoft
16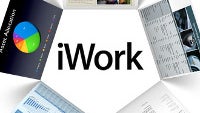 After making its entertainment and media app suite, iLife free, Apple goes on with the spree by making its office suite, iWork, free as well. Pages, Numbers and Keynote have all been update with support for online collaboration via iCloud and are getting a price cut down from $9.99 to zero on new devices.
And then the jabs at Microsoft began. Apple knows clearly it is starting to shake some of the foundations of Microsoft business and made clear it's intentional. Microsoft - in stark contrast - sells its office for a whopping $99 a year. Interestingly, online collaboration is the biggest feature in Microsoft's office and now Apple's iWork suite gets it as well, but for free.
Of course, Apple has also updated all three apps - Pages, Numbers and Keynote.
Pages, the Microsoft Word alternative, has gotten updated looks to fit the new iOS 7 simplistic and clean looks.
"What's great about this is that we're not cluttering the screen with a lot of controls,"
Eddy Cue shot another ballistic missile at Microsoft that's often been criticized for the heavily cluttered Office. Numbers and Keynote also get the new design.
Finally, all these apps are free with the new Mavericks OS X, and that OS update is free as well. Great news!
source: Apple