Larger 12.9" iPad rumored in the testing phase at Foxconn again, pegged for March release
15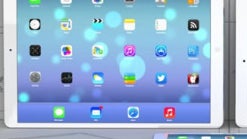 Another day, another rumor about a larger than 9.7" iPad being in the testing phases. This time the diagonal is pegged at 12.9", which contradicts previous 11.4" rumors, but it's prototype land, so anything is possible. In fact,
we've heard the 12.9" size bandied about by Korean media before
, claiming it will be aimed at educational and enterprise markets
Of course, being in the testing batch at Foxconn, as the sources claim for the 12.9-incher, might mean one of many things - the panel could be one of many sizes Apple is toying with that will never see the light of day, or destined for some kind of convertible to respond to the Windows 8 gear assault, or simply a screen for a new touch-enabled MacBook Air.
The larger tablet is expected to be announced by Apple in the spring, which, if it pans out together with the 5" iPhone 6 rumor and the iTV, would mark 2014 year as the year Apple went big.
Recommended Stories