Is Android N version 7.0?
11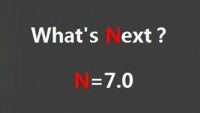 There was a lot of info released today about Android N, including all of the
new features
, the improvements to existing features like
Doze
, and of course there was also an update to the
Android N beta
release that looks to be far more stable. But, Google loves its little Easter eggs, even if they are "hidden" in the same place every time.
Google has a history of setting the system clock to the version number for screenshots. We've seen it happen with the last handful of Android OS updates. And, whether it means anything or not, all of the screenshots shown during the Google I/O keynote today showed 7:00 as the time. If that follows suit, it would mean Android N is version 7.0.
It would also make sense generally that Android N would be version 7.0, because Google tends to use full version number jumps for bigger updates and split-screen and Google Assistant seem like solid updates.
Of course, the screenshots on the Android Developer site for Android N mostly show the time at 12:00, so it might not mean anything. We'll have to wait and see.