Android N brings improved Doze to extend battery life
18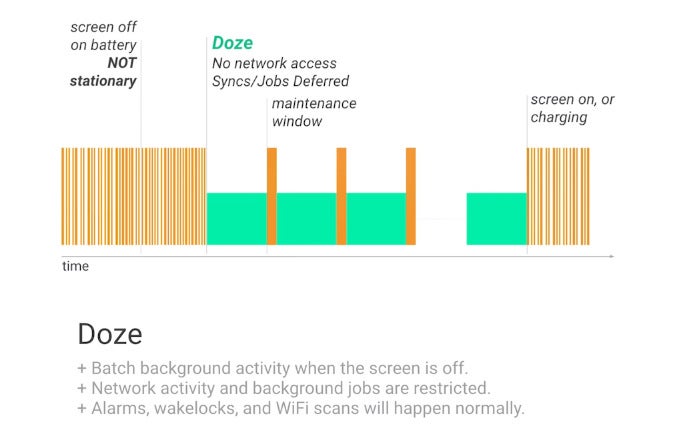 One thing is for sure – most of today's smartphones don't really last long between charges. Even those with humongous batteries will barely get you through two or three days of use, and that's not cool. To change things for the better, Android 6.0 Marshmallow brought us Doze – a feature that optimized stand-by efficiency by clever management of background activities. For Doze to be active, however, the device has to be both stationary and to have its display off – the feature is designed to be active solely when the system is not in use.
With the release of Android N, an extended variant of Doze will be added to improve stand-by performance even further. What's new is that the battery saving feature will kick in shortly after the screen is off, whether the device is standing still or not. While the phone is in stand-by in your pocket, network access and background tasks will be allowed to run in brief time windows every few minutes. Crucial components will not be limited, of course, so don't worry about your alarms not ringing on time. If the device is detected to be stationary as well, Doze will effectively work as it does in Marshmallow, limiting background activity more aggressively.
This is just one of the many improvements coming with Android N this fall. To learn more about this new flavor of the system, be sure to check our list of all the
new Android N features
.
Recommended Stories