U.S. carriers, apps and others hit by massive outage in the Northeast
12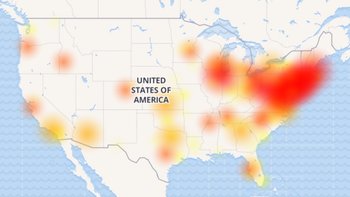 According to DownDetector
, many of the wireless industries biggest stars are down today. The website shows that it has received complaints from customers of Verizon, Comcast, AT&T, Amazon, Google, Snapchat, Sprint, T-Mobile and more. The image at the top of this page is Verizon's outage map that shows where the nation's largest carrier is having issues.
The problems started at around 7 am EDT this morning and are affecting mobile communications in the Northeastern United States, parts of Texas and southern California. Cities where service is disrupted include Philadelphia, New York City, Washington, Brooklyn, Denver, Baltimore, Chicago, Pittsburgh, Portland, Houston, Dallas, and Alexandria.
The outage appears to be due to a problem with networking company Cloudflare. The firm says that it has identified a route leak that impacted service and has been working to fix the issue. Over 16 million sites use Cloudflare, so an outage there is bound to create chaos online.
Some of the outages started clearing up before 9 am, but it would seem that based on the most recent information, the four major U.S. carriers are still experiencing problems. We have requested more information from T-Mobile, Sprint, and Verizon and as soon as we hear back from them, we will let you know. Google did inform us that all of its systems are now "operating properly."

This is a developing story and will be updated throughout the day.