Internal Apple memo says it all: No Watch to be found for sale in stores until June
26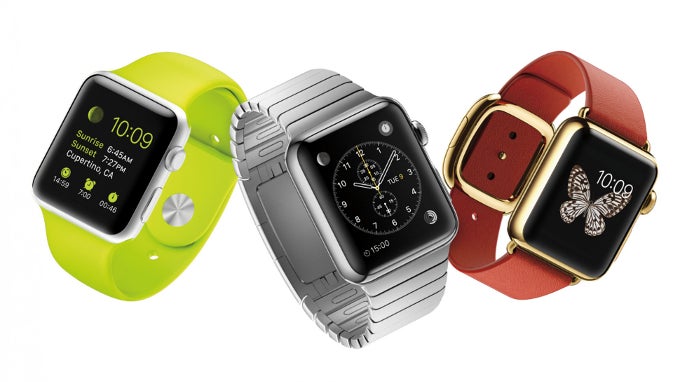 It feels like rumors originating from the supply chain of any manufacturer are true only half the time, but in the case of the Apple Watch, they may have been onto something. Namely, it seems as if Apple is truly having trouble manufacturing enough of the wearable, and while pre-ordered units will start shipping at the end of next week, you can apparently wave goodbye to in-store sales of the thing until June. We have two, semi-officials reasons, to think that.
To start off, according to a leaked internal Apple memo issued by SVP of Retail and Online Sales, Angela Ahrendts, "
due to high global interested combined with [our] initial supply",
walk-in purchases of the Apple Watch will not be happening on April 24th, as was promised. In fact, Ahrendts tells employees that this situation is expected to "
continue through the month of May".
In the meantime, the ex-Burberry exec encourages Apple employees to instead help people place their orders online and assure them that they'll still get help setting up their new Watch either online or in one of the company's many retail stores. The gadget will still be available for
preview
on-location.
And the second reason? Apple has already done away with the "Available 4.24.15" tagline on the official Apple Watch page for the US, and has instead put a more unpredictable "
The Watch is coming.",
giving further credibility to the aforementioned leaked memo (seen below).
According to early estimates, the Apple Watch has managed anywhere between 1 and 2.3 million pre-orders already – more than the combined total of all Android Wear-based smartwatches sold in 2014. When you consider the many, many different customization options available to Apple Watch buyers (material and colors for the strap, bezel, size, edition, etc), and then think about the hundreds of retail stores across the globe that the company needs to supply with, preferably, at least one of each, you can see how keeping up with demand can quickly turn into a daunting task and a logistical nightmare, even if your company logo features a partially eaten apple and you have nearly $200 billion cash in the bank.
Team,
On behalf facility of Tim and the rest of the executive team, I wanna thank you very much for making last Friday's debut of Apple Watch unforgettable. The Previews going on in our stores and the support from our Contact Centers are Unlike anything we-have done before.
The feedback from customers is overwhelmingly positive. They are excited about Apple Watch, and your teams are fantastic experiences for Creating Them. Customers Who pre-ordered Will start receiving send Deliveries next Friday as Planned, and I know you Will Do a great job helping get set 'em up.
Many of you-have-been getting issues if we ask asking Will Have the watch available in stores on April 24 for walk-in purchases Single. As we annoncé last week due to high global interest combined with our initial supply, we are only Taking orders online right now. I'll more-have updates as we get closer to in-store availability, purpose we expect this to continue through the month of May. It Has-been not an easy decision, and I want to share with you the thinking behind it.
It's significant to Remember That Apple Watch is not just a new product aimed year Entirely new category for us. There's never-been anything quite like it. To Deliver the kind of services our customers-have come to expect-and expect from Ourselves Abebooks web-we designed a new approach completely Call. That's why, for the first time, we are Previewing a new product in our stores Before It Has started shipping.
Watch Apple est Our most personal product yet, with multiple case and band options Because it's an object of self-expression. Given the high interest and initial supply at launch, we Will Be reliable customers to get the model They Want Earlier and faster by Taking orders online.
I know this is a different experience for our customers, and has changed for you as well. Are we going to launch Every product this way from now on? No. We all love those blockbuster Apple product launch days-and There Will Be many more to come. They're the times Where You, our teams, shine. And our customers love them as well!
Apple Watch is an exciting new product and we are at the start of a very exciting time at Apple. You're the best team on earth and you are doing an amazing job.
For customers Who want to buy a watch, please continue to help 'em up Their order online. Also make sour That They Know, Wherever They buy Apple Will Provide Them with Personal Setup a great experience - Either online or in our stores. This includes syncing Their Watch With Their Apple iPhone and teaching 'em about all the incredible features of Their New Apple Watch.
Thank you very much again, and I look forward to seeing you soon.