Intelligent camera app Microsoft Pix is coming soon to iOS
12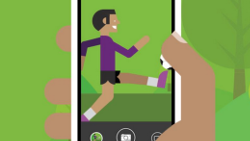 Microsoft Pix
is coming soon to iOS. An intelligent camera app, it automatically finds the best version of your photo, and enhances the image. Once you click on the shutter, the app goes through several pictures taken right before the shutter was snapped, and several taken immediately afterward to find the best image. ISO and exposure is automatically set once the app is open, and faces are quickly brought into focus with settings optimized.
If the app detects "interesting" motion in your photograph, it will automatically turn it into a looping video like Apple's Live Photo. The difference is that Live Photos always takes videos around a shutter press, while Microsoft Pix records the video only when it senses an interesting movement. This keeps the phone from wasting storage capacity. And when the app finds the "best picture" for you to use, it will "prioritize" faces if there are any in the shot.
While Microsoft Pix is not yet available from the app store, it eventually will appear when you click on the sourcelink. Keep checking in, and we will also update this story once the app is launched.
source: MicrosoftPix (
iOS
) via
MSPoweruser