Intel to start manufacturing ARM chips
22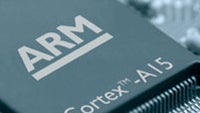 In a shocking move, Intel has decided to open up its industry-leading chip manufacturing facilities to none other than its arch-rival in mobile - ARM. The announcement comes from Intel partner Altera and was made during the ARM developer conference on Tuesday, according to Reuters.
Intel will open its fabs, the name used for the manufacturing plants, to make ARM's 64-bit chips beginning next year.
This is important because Intel's fabs are among the most advanced out there, capable of more precise manufacturing than rivals like TSMC and Global Foundries. That is why having ARM's latest chips manufactured in Intel's fabs sounds like a truly shocking and enticing proposition.
Chip making facilities are known as fabs and Intel has got state-of-the-art fabs that are capable of manufacturing the most advanced chips. Intel's biggest competitors in the chip manufacturing space like TSMC still cannot quite match up Chipzilla's expertise in the area.
Having Chipzilla manufacture silicon for its biggest rival ARM - as shocking as it is - does not mean surrender.
ARM is still the dominant chip maker in mobile, but with the battery-efficient Haswell the gap is much smaller. Intel is obviously hard at work at perfecting its mobile chips and will continue to stay competitive. At the same time, it also needs to fill up its fabs with orders since when the plants are not functioning at maximum capacity the company is simply losing money. So take this as Intel patching that money-bleed rather than surrendering to ARM in anyway.
This also means that Intel could be making the latest chips for Apple's iPhones and iPads, Qualcomm's Snapdragon series of mobile chips and Nvidia's Tegra line. All those companies design their own chips, but rely on others for the actual manufacturing and the fabs.
source:
Forbes