Intel planning to cut power consumption on its chips by 41%
29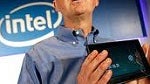 Intel's fourth generation of its "Core" processor line will sport better performance and draw far less power. Code-named "Haswell," the new line of chips will pull on only 10 watts of power versus 17 watts for comparable existing chips.
While Intel provides processors to over 80% of the world's computers, their inroads to the mobile space have not been as deep. Their technology is not as power-efficient as the designs commonly used in phones and tablets, many of which are licensed by ARM Holdings. Intel's Atom line has found its way into many netbooks and small laptops, but that is not stopping them from answering the call for lighter, thinner, more powerful, more efficient processors.
Apple, Inc. has been a visible player giving Intel feedback rooted in the desire to build more energy efficient computing products. Intel set conservative goals but has managed to exceed them with this new line. On top of that, the Haswell line benefits from optimized production methods which were introduced with the third generation Core chips.
On September 11, Intel will announce their new designs at an annual developer conference in San Francisco. There, they will showcase their new Haswell chip performance in the emerging computing category Intel is calling "ultrabooks." Ultrabooks are thin, convertible laptops which Intel is forecasting will gain in popularity as Microsoft's Windows 8 enters the market.
As Intel continues to advance their designs, there is no doubt that they would like to leverage that position to gain a better foothold in the mobile processor space. After all, a less power hungry, yet more powerful processor means longer battery life. The new Core generation of processors is expected to hit the market early next year.
source:
Wall Street Journal